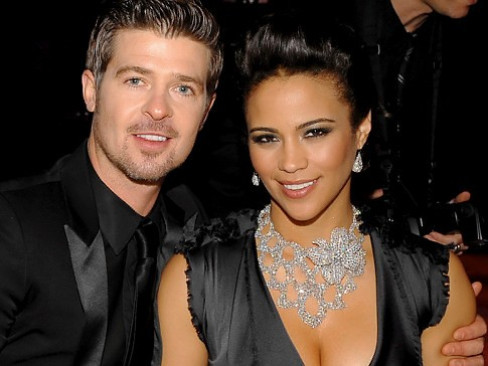 Robin Thicke has revealed that he enjoys listening to his own music while having sex with his wife actress Paula Patton.
The Blurred Lines hitmaker said that they spend most of the time naked and sometimes she even pretends to be an adoring groupie in the bedroom.
"We're overspiced. We could probably take a few spices off the shelf," the US singer said. "In our household, nudity is not frowned upon. We're much more free with ourselves.
"She likes to do it more than ever now. Sometimes she'll even play groupie for me."
But the hip-thrusting 36-year-old star believes that quality time is more important than sex.
"I like to take her out to a fancy, six-course meal that lasts three hours and stare into her eyes. Of course, it's a little schmaltzy. There's nothing women love more than an effort," he said.
Earlier this year Thicke revealed that the Mission: Impossible - Ghost Protocol star had become sexier and more experimental since they started dating as teenagers.
During a candid interview on the Howard Stern Show, the 36-year-old singer said that his wife's antics had inspired his summer smash Blurred Lines.
"My wife is Mrs Good Girl. Gradually, over our marriage, I've turned her into a bad girl."
When asked if they had experimented with threesomes the Lost Without You singer became more coy and would not spill the beans.
"Out of respect for her, we just won't answer that one," he said.