A cab firm in Rochdale, the Lancashire town at the centre of one of Britain's largest grooming scandals, has admitted supplying white drivers to customers who ask for one - but denies being racist.
Taxi firm Cab 2000 took over from Eagle Taxis in Heywood, which was the firm at the centre of the grooming scandal. Men working at Eagle Taxis were ferrying underage girls around Rochdale and other nearby towns to be abused. Although Rochdale had escaped the 2001 riots which engulfed nearby Oldham, when news of the scandal emerged in 2012 there were serious disturbances in Heywood.
Nine Muslim men, including two cab-drivers, Mohammed Amin and Abdul Aziz, were jailed for five and nine years respectively in 2012 but feelings in the town still run high. The Guardian reports that some Muslim cab drivers have been threatened with knives and been assaulted.
Cab 2000's manager Stephen Campbell said he received around 60 requests a week for white drivers from customers.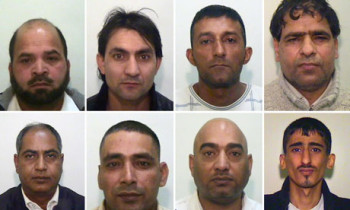 "We have had quite a lot of customers requesting what they call a 'local' driver," Campbell told The Guardian. "A bit insane if you consider that most of the lads were born in Rochdale. But its a business and we have got a duty to do what the customer asks us to. I don't think we can discriminate against the customer in the same way. It is a business at the end of the day."
Campbell said he personally had no grudge against Asians and that they were his best workers. "The Asian drivers are harder working, they do what they are asked and they don't complain about it. They have a much better work ethic. If the public could actually see these people close up and see what they are about, I don't think they would be asking for white drivers."
As well as being the town where then-Liberal MP Cyril Smith was said to have abused boys Rochdale is also the town where Gordon Brown's campaign to be elected Prime Minister famously came unstuck in 2010 when local grandmother Gillian Duffy confronted him about immigration.
At the recent Heywood and Middleton byelection Ukip used the grooming scandal and immigration as part of its campaign strategy and came within 617 votes of overturning Labour's majority of almost 16,000.
Local MP Simon Danczuk said the taxi firm story was worrying and was partly a result of grooming scandals in a number of towns but was not exclusive to Rochdale.
"It must act as a wake-up call to politicians who just pretend tensions like this don't exist and bury their heads in the sand," said Danczuk. "There's a lot of work to do to improve race relations and if we're going to build stronger communities then we have to tackle these concerns head-on."