Rochester By-Election: Britain First Inspired by Jesus Christ, claims Leader Paul Golding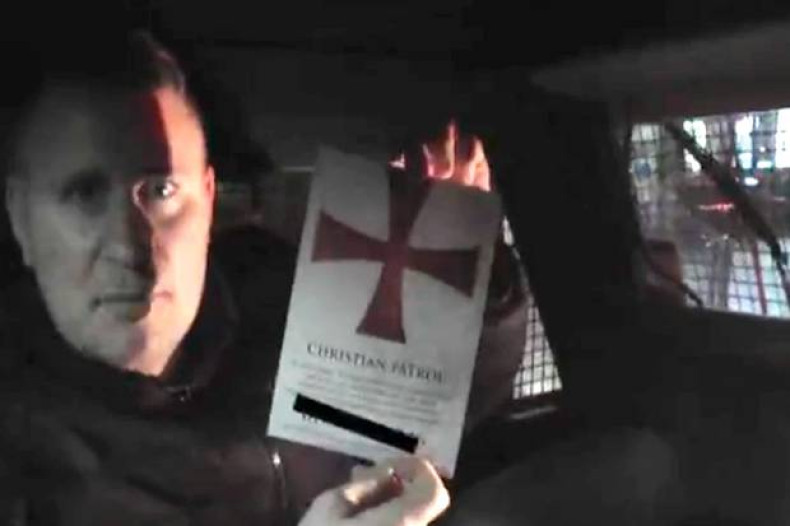 Far-right party Britain First is inspired by the belligerence of Jesus Christ, leader Paul Golding has told IBTimes UK.
Speaking ahead of the by-election in Rochester, Golding claimed his party has no interest in the electoral system, even though they are putting forward a candidate in this evening's poll.
Although Golding says that religion is fundamental to the movement's core message, Britain First has nevertheless courted controversy by handing out bibles to Muslims on its so-called Christian patrols in the town. Even as recently as last weekend, the party's deputy was heard chanting that the Prophet Mohamed was a paedophile on another march.
Golding told us: "This is a Christian country, whether it's our legal system, our system of government, all our historical figures, Churchill, Nelson, Cromwell, Elizabeth... all of them are Christian. This country is built on Christianity, and we do take it very seriously."
Asked about the example of Jesus, Golding replied: "People think of Jesus as some tree-hugging, sandal-wearing liberal, which is not the case.
"[In the bible] Jesus Christ uses physical violence at times, like in the temple in Jerusalem, when he physically attacked people who were trading in the temple grounds, and it says in the Bible he came to bring a sword, not to bring peace."
'A lot of people think we're reactionary knuckle-draggers but we're not'
Golding said he wholeheartedly supports his deputy Jayda Fransen, who is standing for election in Rochester, and especially following her incendiary chants on Saturday's march.
"Mohamed was a paedophile. In the Islamic scripture he had sex with a nine-year-old girl, pre-puberty, so it makes him a paedophile. He married the girl when she was six and married her when she was nine.
"I've read the Qu'ran. We're not ignorant of Islam. A lot of people think we're reactionary knuckle-draggers but we're not. And I've told every Muslim I come across that Mohammed was a paedophile.
"The problem is that you can't argue with a Muslim, a central part of their religion is called taqqiyah [a Shia edict which allows believers to deny or conceal their faith when facing persecution]. That means they can lie, they're encouraged to lie to people who are kuffah, non-believers.
"You cannot debate with a Muslim because all you'll get is a torrent of lies. Their religion encourages them to lie to non-believers."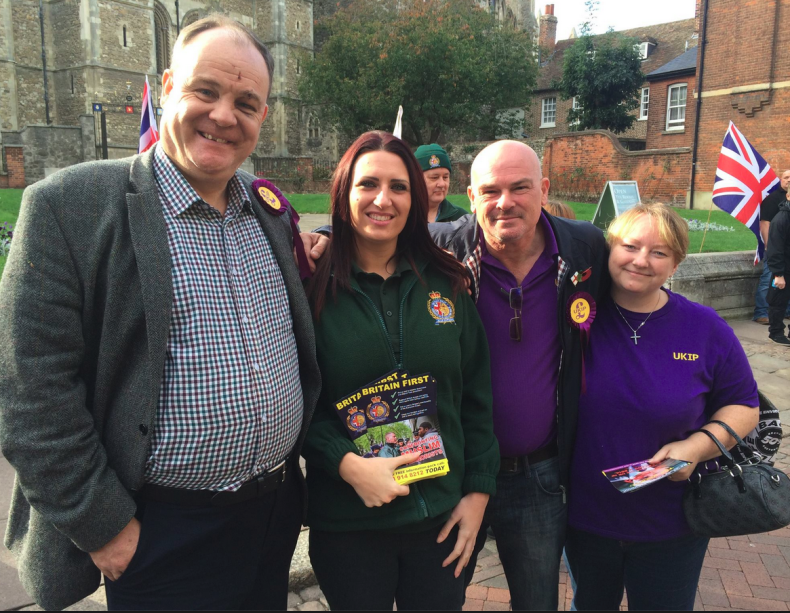 'We want to cause a furore - but electoral system is pointless'
Asked about his core objectives for tonight, Golding said "our key aims are simple: to cause a big furore in this by-election, use this by-election as a platform, by which we can draw attention to not only ourselves but to the issue of the big mega-mosque in Medway.
"We've got no interest whatsoever in the electoral system. We believe it's media-rigged. You're always going to get Labour or Conservative governments -- that's a fact.
"The media treats outsiders to the old gang political parties as pariahs. Look at the hostile press Ukip gets and the hostile press Britain First gets, and it seems to be only the Socialist and Liberal parties – and I include the Conservatives in that, because they are not conservative any more – if you're not part of the establishment then the establishment will be hostile to you."
Britain First has publicly endorsed Ukip's Mark Reckless, who appears all-but certain to win tonight's election. However, Ukip has attempted to distance itself from Golding's movement, even expelling one activist for taking part in Saturday's march.
Golding played down Ukip's opposition to Britain First, claiming that Nigel Farage's party is very supportive of him and his movement at grassroots level.
"When we went to the European elections in May, all the Ukip people were treating us almost like celebrities. They went "ah we've seen everything you do, it's brilliant, keep it up, keep it up!" We get the same reaction in Rochester, you've seen them pose for photos with us, no problem.
"So it seems to me the rank and file are very supportive but the Ukip hierarchy, the Ukip press office, they've got to jump through hoops. They're facing a hostile media and they don't know really what we could do so they've got to create a certain amount of distance.
"In our opinion it's all posturing for the media."