Britain First Extremists Plot Pig Burial to Halt Controversial Dudley Mega Mosque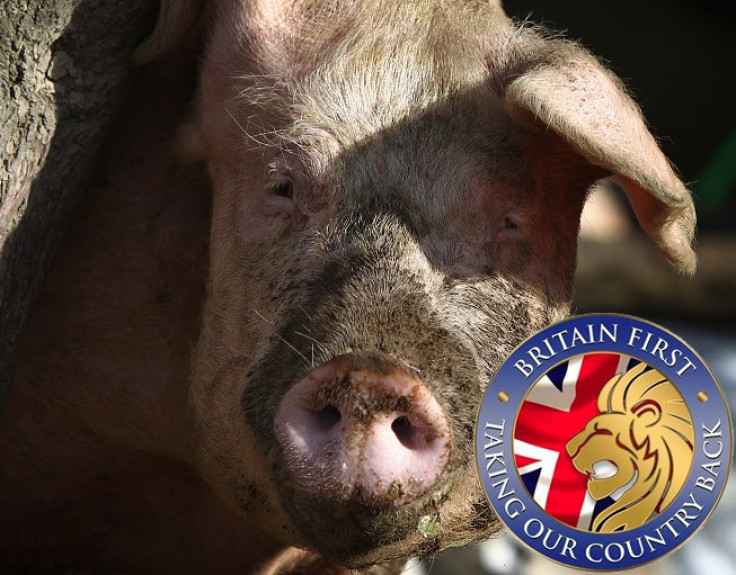 Far-right extremists want to halt plans for a so-called "mega-mosque" by burying a dead pig on the site in Birmingham.
Britain First leader Paul Golding concocted the idea after planning permission was granted for a plan to build a large mosque in Dudley this week.
He claimed burying porcine remains on the proposed site would sabotage the plans to build a mosque there.
Extremist leader Golding unveiled his plan outside a town hall in Dudley at which the mosque won planning permission. Britain First members were barred from watching the meeting from the public gallery.
He declared the Koran forbade any building work on ground containing "swine".
"We will find out where this mega mosque is and we will bury a pig right in the ground [there]. We'll do that: We'll bury the pig and that's the whole thing scrapped," he declared in a web video.
However, Islamic thinkers said burying pork products would not halt the building of a mosque because not all Muslims object to handling the meat.
Other groups which opposed the plans for the new mosque did not want Britain First on their side.
Conservative Councillor Les Jones, who opposed the planning application because he said it did not make best use of the land, condemned the group.
Jones told IBTimes UK: "They're clearly not very intelligent people.
"When people like Britain First take genuine concerns such as immigration and use them for promotional purposes, it saddens me.
"Britain First represents everything we disagree with and they represent the worst of all worlds, by putting on a patriotic face while promulgating division."
Muslim think tank Quilliam said burying a pig on the proposed site would cause outrage, if not sacrilege. "So Britain First would have achieved its aim," a spokesman said.
This week has seen the far-right extremist group branded "manipulative" by one of its former members, Matthew Lester.
He told IBTimes UK: "Britain First will tell you anything you want to hear. It's all about publicity for them."
© Copyright IBTimes 2023. All rights reserved.