David Cameron has dropped his biggest hint yet that he would be willing to lead a campaign to take Britain out of the Europe if he failed to win significant reforms to the EU.
Speaking during a campaigning visit to Rochester, where the Tories are facing a threat from Ukip, the prime minister was answering rumours he had a "game-changing" proposal on tackling EU immigration up his sleeve.
He ducked the question but stated he was prepared to have "one last go" at negotiating a deal with the rest of the EU.
"It's not going to be easy, these things are never easy but frankly I think that Britain can say, as a country that has contributed massively to European prosperity and progress over not just the last few years but over centuries, that we should have one last go at negotiating a better deal," he said.
The remark clearly suggested that, should the "last go" fail, then the only alternative would be to recommend withdrawal from the EU, unless he is suggesting surrender, which would not only be unacceptable to his own party but very likely the end of his leadership.
His words have taken him a step closer to the guarantee his Eurosceptic MPs have been demanding and which he has so far flatly refused to give.
And there remains frustration and a large degree of scepticism about his latest remark, which again fell short of a clear, unequivocal statement of intention to lead the "out" campaign in the promised 2017 referendum unless he gets his reforms.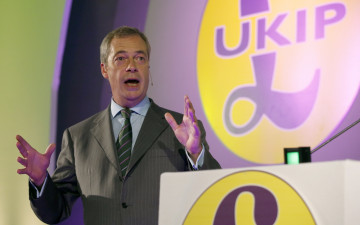 But he may well find that his rebels now hold his feet to the fire and insist that is the only interpretation that could be placed on his comment and will expect him to follow through.
As it stands at the moment, though, they are left only with more nudges and winks which may well amount to little more than a PR stunt aimed at winning over voters toying with supporting Ukip.
The problem for Cameron is that he is eager to limit the damage from Ukip but without appearing to be running scared of the party, which he is already accused of doing.
All the hype surrounding the Rochester by-election is largely designed to allow Cameron to claim a great victory and to have halted the Ukip bandwagon when his candidate wins the election, as she most certainly should, on 20 November.
Despite their private confidence they will win the rock-solid seat, there is just enough panic in the Tory ranks to persuade Cameron to make Eurosceptic, Ukip-friendly remarks to maximise his support in the constituency.
But the downside is that it will leave a legacy after the by-election and, if Ukip continues to pose a significant threat to the Tories in the general election campaign, Cameron will have no option but to further harden his Eurosceptic line.
And, as some Tory backbenchers now fear, he will paint himself into a corner where negotiations with the EU will become virtually impossible and withdrawal will be the only option left.