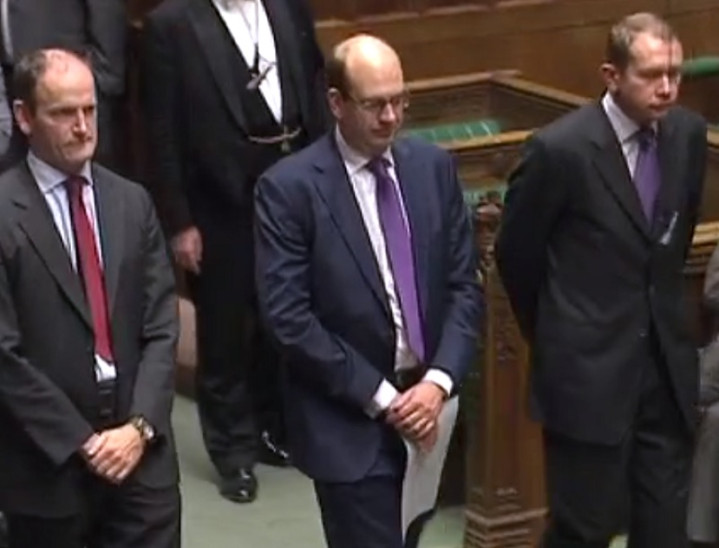 Ukip's second MP has been sworn into parliament after he won the Rochester and Strood by-election.
Mark Reckless was accompanied by two sponsors – fellow Ukip MP and Conservative defector Douglas Carswell and Tory backbencher Philip Hollobone.
The Rochester and Strood by-election was triggered after Reckless jumped ship to Ukip in September and stood down as an MP.
The Ukip candidate won the contest after gaining 16,867 voters – representing 42.1% of the vote.
Conservative candidate Kelly Tolhurst came second in the by-election after securing 13,947 votes (34.8%).
The voter turnout was 50.6%, down from 64.9% in 2010.
"Whichever constituency, whatever your former party allegiance, think of what it would mean to have a bloc of Ukip MPs at Westminster large enough to hold the balance of power," Reckless said in his acceptance speech.
"If you believe in freedom, if you believe in low taxes, if you believe in clean government, if you believe in localism, if you believe in people power.
"If you believe that the world is bigger than Europe, if you believe in an independent Britain, then come with us and we will give you back your country."
The result is a blow for David Cameron ahead of the 2015 General Election next May.
The prime minister had visited the constituency five times ahead of polling day in a bid to boost support for Tolhurst.
But the Conservative Party leader said he is determined to win the Rochester and Strood seat back in May.
"I'm determined to win back Rochester and Strood at the election – anything other than a Conservative government would put our recovery at risk," Cameron said.
The Parliamentary Oath

MPs who have been elected at a by-election are accompanied by two sponsors to take the Parliamentary Oath.

The new MP collects a certificate relating to his or her election from the Public Bill Office to hand to the Clerk of the House before taking the oath or making the affirmation.

An MP takes the oath by holding a sacred text in his uplifted hand and reads:

"I (name of Member) swear by Almighty God that I will be faithful and bear true allegiance to Her Majesty Queen Elizabeth, her heirs and successors, according to law. So help me God."