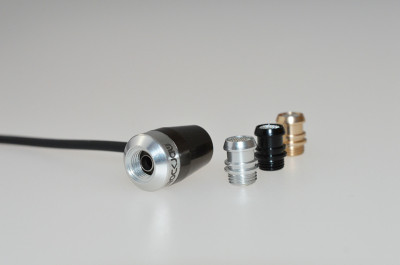 The Rock Jaw Audio Alfa Genus V2 in-ear headphones (earbuds) are a no-nonsense set, great for the audio lover who likes to travel light without leaving themselves light in the pocket. You won't be turning the heads of your fellow commuters with the subtle design but you won't care because the modest looks belie great audio quality. Coming in at £45 ($68), the Alfa Genus V2 doesn't push the envelope on price but does rightfully set aside from the entry-level gear some might be satisfied with.
As with the original Alfa Genus, the party piece is a set of three noise filters – bass, neutral and treble, colour-coded so there are no mix-ups. Not just a gimmick, there is a noticeable difference in the output depending on which filter you have installed. They work by simply narrowing the gauge from treble to neutral to bass, creating a smaller resonance cavity. The neutral filters also have a foam insert, which dampens the sound slightly.
The audio filters allow you to slightly tweak what might otherwise be a flat experience (which in itself is not bad, so thankfully neutral is included), and the variety of eartips ensure you'll find the right fit out the box. These elements combine to give a good audio delivery, which allows you to focus on the music, and even block out a noisy commute (the Alfa Genus V2 passed my unofficial Central line test with top marks).
It's not drastic, but it has enough of an effect that after having played around with the different filters I settled on my natural proclivity of sturdy bass. The treble definitely left me wanting in the bass department, but I was not sure if the seemingly slightly sharper highs were the actual or placebo result of having a definite reduction in the bass output. The neutral was a fine middle-ground, so users have the option to tailor their listening to their tastes.
The two-tone aluminium housing is a durable mounting for the components, and the light and sleek design means it shouldn't irritate your ear. 8mm dynamic drivers is a standard spec for earbuds and in this case, the components have served me well over a two-month testing period, with no tinny rattles, warbles or distortions, and a clear, robust sound and above-average volume max out.
With earbuds, how the sound is delivered to your ear is as important as the components. Bundled are variously sized eartips; foam, silicon rubber, and one small double flange. This means if you don't like earbuds that require insertion into your ear canal to get a snug acoustic fit (preferring the likes of, for example, the Apple EarPods which simply rest in your ear) then you shouldn't be looking here.
Rounding off the design is a simple matt black rubber sheathe for the 1.2m cable, with rubber strain relief at the split and right-angled 3.5mm jack termination points being about as sturdy as it gets for this sort of design. Over a two-month use period, there is little sign of wear and tear, and I never felt worried about slipping these into my pocket without the faux-velvet carry bag.
The in-line microphone and call control is unobtrusive and simply works as expected. Rock Jaw has artfully dodged the proprietary minefield of Apple's in-line volume controls by simply not including them; probably a downside to iFans but nothing Android users haven't learned to live without, and this likely shaved a bit of the price tag as well. Finally, a shirt-clip is included and while mine has not failed me, it remains to be seen if it will stand the test of time.
| Headset Test | Frequency response (low) | Frequency response (high) | Dynamic Range | Quality (bass shaker) | Driver matching | Wiring (Centre) | Wiring (Twisted) | Binaural test | Spectral Flatness |
| --- | --- | --- | --- | --- | --- | --- | --- | --- | --- |
| Rockjaw Audio Alfa Genus V2 | 10Hz+ | 19KH down | 66db below | Clear tone, slight buzz | Good, slight variation at high end | Well defined, accurate | Hard to define, accurate | Realism affected by filters | Slight loss at mid |
Tests conducted on AudioCheck.
Our verdict
Rock Jaw Audio Alfa Genus V2 review
The Rock Jaw Alfa Genus V2 refreshes the line from its hardwood origins with an aluminium casing, and a sleek rubber sheathe for the cable. Coming in at a reasonable price in a robust bundle, the Alfa Genus V2 offers good audio quality and enough customisability to take listeners to the next level up from standard earbuds, such as those bundled with mobile phones.
Comfort and fit: Various sizes and types of earbud tips means you should get a comfortable seal out the box. The aluminium driver housing is light and the sleek design means it shouldn't irritate your ear.
Sound quality: Good sound reproduction coupled with solid construction means no unexpected audio anomalies. The included frequency filters are surprisingly effective if you wish to tailor your experience toward noticeably decent bass and crisp highs.
Design: The no-frills two-tone aluminium driver housing and rubber-sheathed cable is both durable and attractive in its simplicity.
Price and value: Listed at £45 for the in-line microphone option (£44 without) these come in above your standard el-cheapo earbuds (the kind you might fish out of a bargain bin in a pinch or that come with most mobile phones) and for that money you get superior design and materials, with some decent audio oomph to boot. If you want a set of earbuds that will add a new layer of quality to your commute without breaking the bank, this is a good place to start - and likely remain.