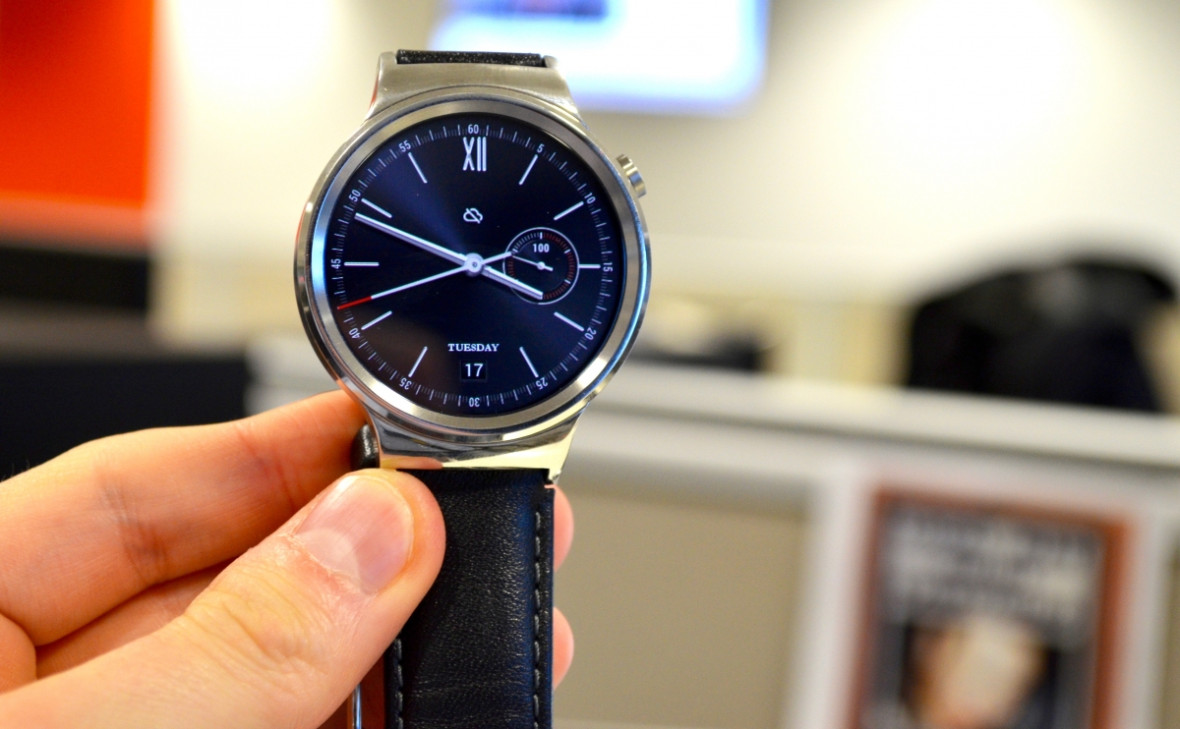 Wearables have come a long way in the last 12 months. Remember when Android Wear launched with the bulky LG G Watch and the round (but huge) Moto 360? At the time it looked like the smartwatch concept was dead in the water, unable to convince customers that the future would be brighter.
But now look. The Apple Watch, Huawei Watch, LG Watch Urbane and Samsung Gear S2 are all attractive; they are all a sensible (ish) size; they all look and feel like watches – and the battery life has improved too. Here we have the Huawei Watch, which was first revealed back in February and is now finally on sale. Prices start at £289 ($440) for the stainless steel model with black leather strap reviewed here.
Huawei Watch: Look and feel
What a difference a year makes. Early smartwatches were big and ugly, with rubber straps and battery life so poor that the screens could not be on all day. To see the time you had to perform an exaggerated shake of the wrist. They were terrible.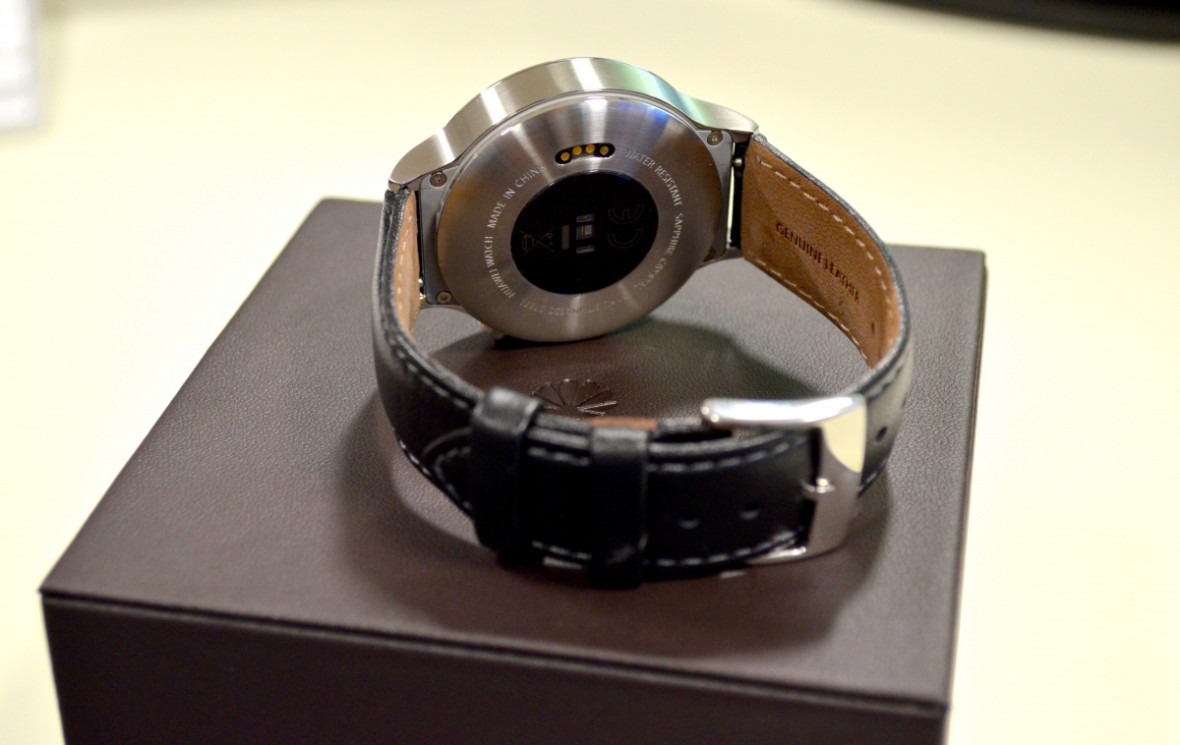 The Huawei Watch is much better. Together with the Apple Watch and Samsung Gear S2, it proves there is a future for smartwatches. The Huawei is attractive, not overly bulky, has universal lugs for fitting any strap, the screen stays on all day and night, and the battery lasts around 36 hours.
As with the Apple Watch, the Huawei's stainless steel finish looks lovely and shiny without coming across as cheap – but, also like the Apple, it scratches easily too. In better news, there's a heart rate monitor on the back, a high-resolution touchscreen, and a control button at the two o'clock position.
The Huawei is attractive, comfortable, and most importantly of all, it looks and feels like a watch. I'm not embarrassed to wear this thing in public, and that's an important hurdle which the smartphone as a concept it starting to overcome.
Huawei Watch: Screen
The screen measures 1.4in in diameter, is perfectly round, has a resolution of 400x400 and a pixel density of 286 per inch. These all add up to make a watch face which is easy to read, and one which is bright enough to be seen outside on a sunny day.
Speaking of brightness, I found it too bright at anything above level three (out of five) and mostly left it at one. Being able to see the time at a glance in any lighting condition is welcome, but an ambient light sensor to brighten or dim the screen automatically would be helpful. Sometimes while driving at night I found the glow distracting, as it could even shine through the sleeve of my jumper.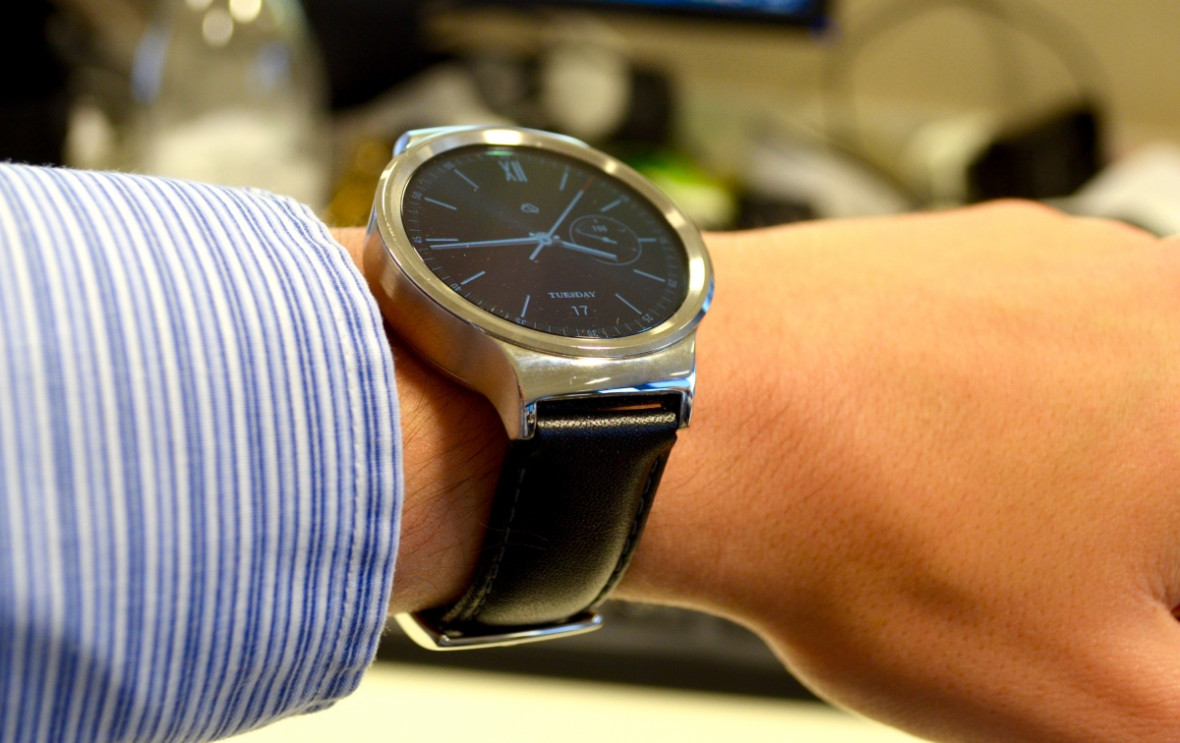 Huawei Watch: Software and performance
Running Google's Android Wear means the Huawei Watch behaves in a very similar way to almost all other smartwatches on the market, from the £100 original Moto 360, up to the £1,100 Tag Heuer Connected. The Huawei can be connected to an Android or iPhone over Bluetooth, or directly to your router via Wi-Fi.
Using either connection, notifications from apps like Facebook and WhatsApp are sent to the watch (and also appear on your phone). The watch vibrates and lights up to alert you, then messages can be read, dismissed, or opened on your phone. This is especially useful when you want to quickly check the subject of a message – or a breaking news update – without digging your phone out of your bag or pocket. Messages can't be typed, but you can dictate by speaking to the watch; this is also how you set timers and alarms, add calendar entries, and make Google searches.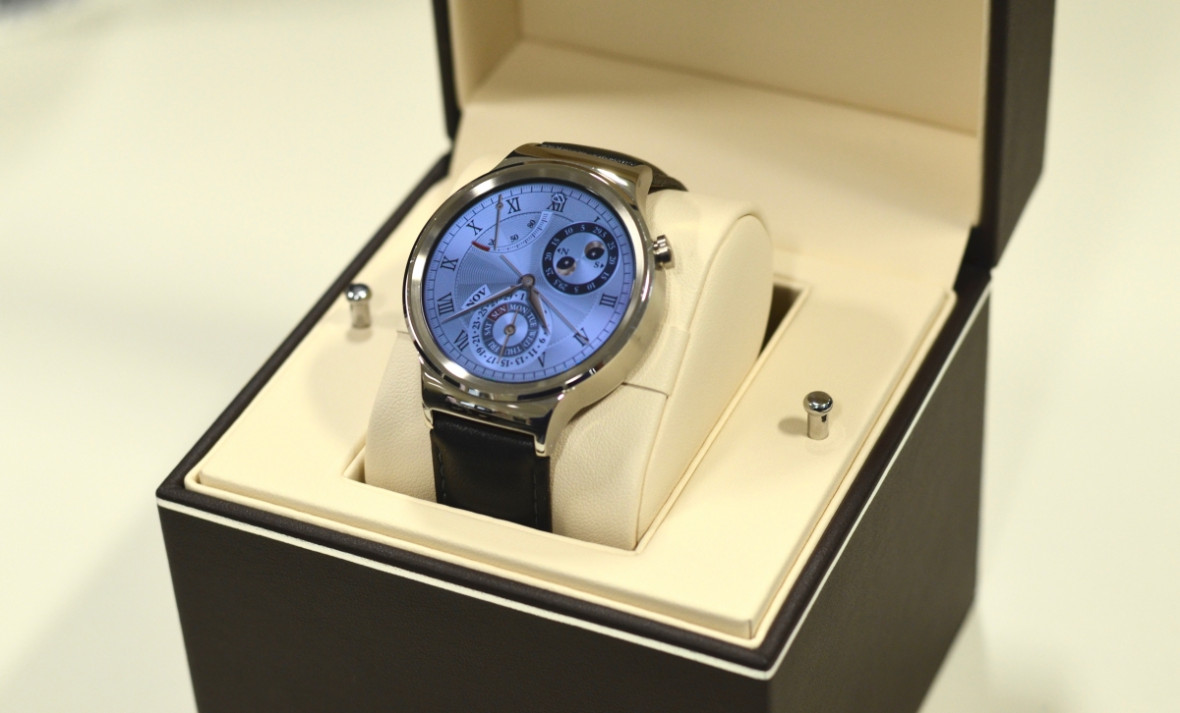 All of this works well enough, but I never really opted to speak into my watch. Apart from looking weird, it often isn't worth the effort of battling with Google's attempts at understanding what you're saying. But as a notification system, Android Wear is hard to beat.
I cannot express strongly enough how much better smartwatches are now that they display the time all day long. The first generation did not, and were terrible at reacting to the wrist-flicking required to wake them up. Seeing the time at a glance makes smartwatches a genuine alternative to traditional watches. While the time is there permanently, a wrist flick lights up the whole display, showing the watch face in more detail and showing any notifications you haven't yet responded to.
Daily steps are logged with the Fit app, which can also be used to take your heart rate. The readers seemed about right, but also fluctuated a fair bit between consecutive tests.

Battery life, the Achilles heel of smartwatches, is surprisingly good. The Huawei will comfortably last a full 24 hours between charges, although a lack of sleep tracking means there's no need to wear it at night. It once even survived to the evening of the second day, which is impressive.
Use every feature repeatedly and the Watch will die in half a day, but leave it alone, treat it like a watch with notifications, and you'll be fine. Recharging is done through a USB dock which the watch connects to with magnets.
Our verdict
I really liked the Huawei Watch. It is comfortable and stylish, its battery lasts long enough to not be inconvenient, it displays the time permanently, and as an instant notification tool it is hard to beat. The smartwatch concept generally is still a tough sell to many because the idea of talking into your wrist is daft and something very few consumers want.
By launching the Watch at a fashionista-filled event sponsored by GQ and Vogue, and by selling it in a premium leather box, Huawei is clearly pitching this as a fashion product, not a technology gadget. This is the right way to sell a smartwatch. A modest range of colours and strap types also helps here and is clearer to understand than the dozens offered by Apple.
The Apple Watch might have a wider set of features you\'ll only ever use once and a stronger brand image, but as a smart alternative to the traditional watch, the Huawei is every bit as good.
Scores:
Design: 8/10 – Almost a match for the Apple Watch, the Huawei is very attractive, but at 42mm the case might be too large for some
Build quality: 8/10 – Very good, but stainless steel was found to mark quite easily after just a couple of weeks
Software: 7/10 – Android Wear is still quite basic, but if all you want is notifications on your wrist it does the job without problem
Performance: 9/10 – Not once did the Watch crash or feel slow. It worked for a fortnight with no problems at all. Data pulled over Bluetooth was sometimes slow
Battery life: 8/10 – For a smartwatch with its screen permanently on, the Huawei Watch has good battery life
Pros:
Great, traditional design
Loads of attractive watch faces to pick from
Feels like a watch, looks like a watch
Cons:
No small option
Stainless steel scratches easily
Battery life can always be improved