I was really disappointed by the iPad mini 3. It was almost identical to the second-generation mini, didn't get the same performance updates as the larger Air did when it became the Air 2, and had only the addition of Touch ID to shout about. The A7 processor (from the iPhone 5s) was over 12 months old, a tiny 16GB option was still on sale, and with the mini 2 being sold at a discount, the new model made very little sense.
So step forward, the iPad mini 4. There's a new processor to bring it in line with the iPhone 6, twice as much RAM, a thinner body and less weight. Will these enhancements, and new tablet-exclusive software features in iOS, be enough to bring Apple back to its best?
Apple iPad mini 4: Design
The iPad design has gone almost unchanged since it arrived back in 2010. It became thinner, lighter and slightly more curvaceous over the years, then spawned the smaller mini and larger Pro models. But when all the iPad can be is a thin slab of aluminium with a screen, there isn't much room left for design flare and imagination.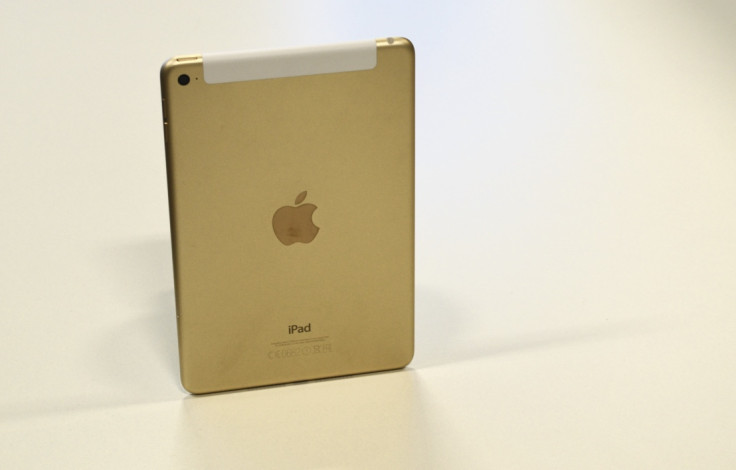 As a result, the fourth generation mini is the perfect example of evolution over revolution. It's thinner and lighter than its predecessor (6.1mm and 299g versus 7.5mm and 331g), making it easier and more comfortable to hold in one hand for extended periods, but it is still very familiar. There isn't really much else to say - it's a gorgeous tablet with nothing visually to complain about. Being the 4G model, this review sample has a plastic antenna along the top and a SIM card slot on the right edge.

The gold colour here might not be for everyone, but it's not as gaudy as I thought it would be, and there's always silver and "Space Grey" instead. No rose gold to match your iPhone 6s and Apple Watch, though. Yet...
Apple iPad mini 4: Screen
At 7.9in and with a "Retina" resolution of 1536 x 2048 giving a pixel density of 324 per inch, you'd be forgiven for thinking the mini 4's screen is exactly the same as the mini 3's. But it isn't. At a more technical level, the new tablet's screen is, according to the experts at DisplayMate, the best screen on any iPad, ever – and that includes the Air 2 and new iPad Pro.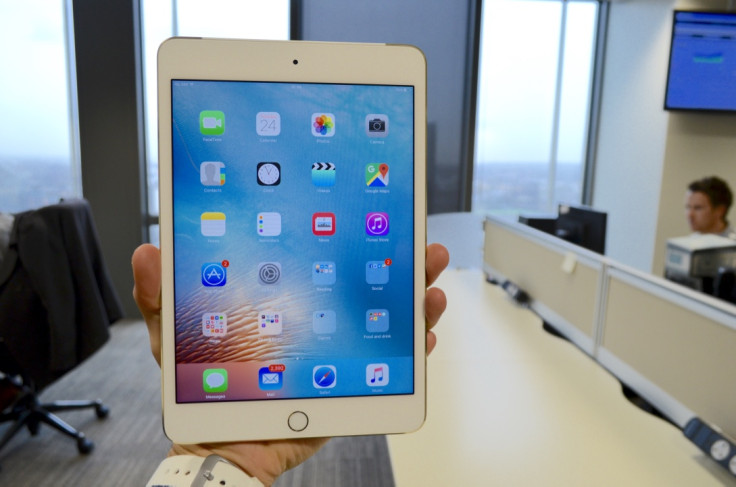 DisplayMate describes the mini 4's screen as "close to being textbook perfect". It came out top in all categories, apart from Contrast Ratio, where it scored a "very good" and came second to the iPad Pro.
While the average consumer may not notice the fine details explored under laboratory conditions here, we are more than happy to agree with these findings – the iPad's screen is simply superb. It is bright, sharp, evenly lit, and can be viewed from wide angles without distorting any of the punchy but accurate colours.
Apple iPad mini 4: Software and performance
The iPad mini 4 comes with iOS 9, which contains several enhancements over the version used by the iPhone 6s and 6s Plus. The most impressive is a huge upgrade to multitasking. Where previously apps could only be on-screen one at a time, a swipe from the right edge reveals a list of apps which can be run alongside whatever you're doing. You can open Twitter on the right to read your stream or sent a quick tweet, while Safari remains open on the left.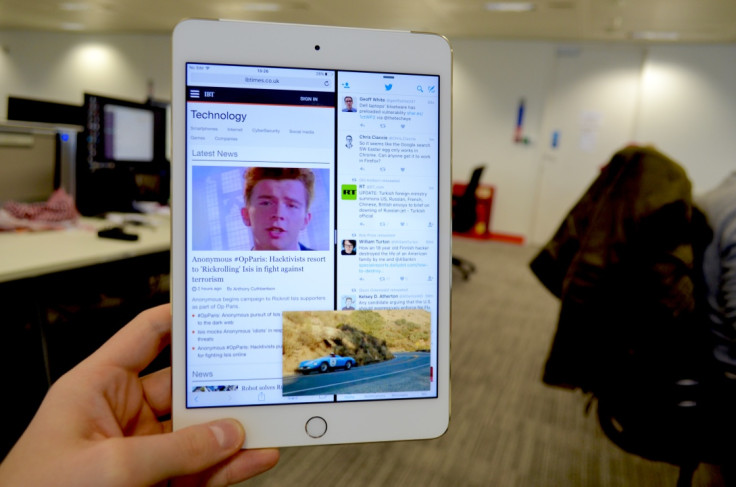 Here, the left app is paused and faded slightly, but drag the line separating the two apps into the middle and both can be used at the same time. You can then play a video (in the browser, the Netflix app, or wherever) and open that as a third, floating window. So that's two apps running side-by-side at the same time, plus a video floating over the top which can be dragged to any corner. Clever stuff.
Elsewhere, iOS 9 works and looks just as it always has done. Apps open quickly, 3D gaming is smooth, and not once did an app crash or the iPad stutter or run slow.
Clearly, doing all this has an impact on the iPad's temperature and battery life – but even with regular multitasking the mini 4 offers similar stamina to previous iPads. Apple quotes 10 hours of mixed use and that feels about right to me. Using the iPad less often meant I was recharging only once every four days or so.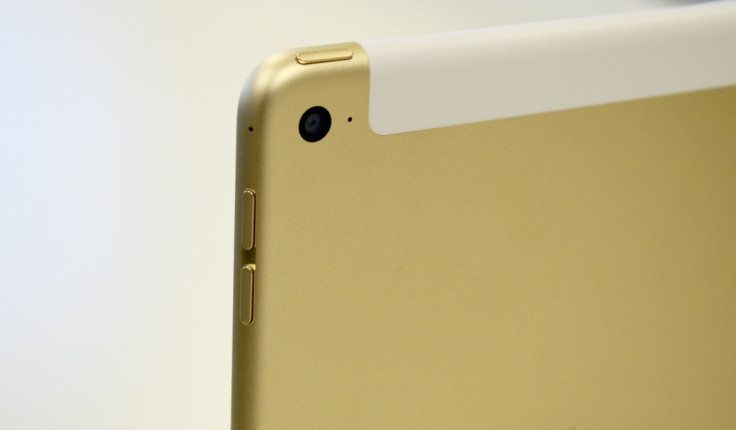 Apple has upgraded the mini's rear camera from five to eight megapixels, while the front camera remains unchanged at a less-than-impressive 1.2MP. It's okay for FaceTime chats, but most phones have better front cameras than this now. Five megapixels would have been nice.
Any negatives? Apple is yet to bring 3D Touch to the iPad lineup, as it has with the Watch, iPhone 6s and MacBook range. This will be a surefire upgrade next year, but while developers are still getting to grips with how to use the feature, the iPads don't feel like they're missing out for now.
And, as always, the iPad mini is expensive. For 16GB, which really shouldn't be an option any more, it costs £319, then it's £399 for 64GB and £479 for 128GB. Adding 4G puts another £100 on top of each of these.
Our verdict
After dropping the ball last year, Apple is back in the game with the iPad mini 4. A thinner and lighter body houses an industry-leading screen which displays a powerful and attractive operating system, run by a processor with top-end performance for a tablet of this size. Based on that sentence alone, for anyone needing a tablet of this size, the mini 4 is the complete package.
But let us not forget, the competition is stronger than ever with mini-sized tablets from Samsung and Sony both offering excellent Android alternatives. Apple may be back in the game, but the game is more challenging than ever.
Scores:
Design: 10/10 – Lovely aluminium body which is just the right size
Screen: 10/10 – Not only great to our eyes, but highly regarded by the professionals too
Software: 9/10 – iOS may not have changed for years, but the multitasking is a nice improvement
Camera: 7/10 – Decent enough, but you shouldn\'t bother taking photos with your iPad - use a phone and you\'ll always get better results
Performance: 9/10 – Not quite the A8X of the iPad Air 2, but a healthy improvement over the third-generation mini
Pros:
Excellent design and build quality
Very attractive screen
Multitasking in iOS 9 is a good update
Cons:
No 3D Touch
Storage should start at more than 32GB
Expensive (£100) to add 4G