Controversial former basketball player Dennis Rodman sang "Happy Birthday" to dictator Kim Jong-Un as thousands egged him on at the Pyongyang Indoor Stadium, but also apologised for his outburst against Kenneth Bae, an American imprisoned in North Korea.
Rodman also gave an impromptu speech during the communist dictator's birthday celebrations and reiterated his lasting friendship with Kim.
The former NBA star also played in a friendly against a North Korean team, an engagement he had dubbed as "basketball diplomacy". In the much-talked about match honouring Kim on his birthday, the American team led by Rodman lost to the Koreans 47-39.
Rodman, who only played in the first half, sat next to Kim during the second half, when the teams were split and mixed.
"That game was actually much better; there was a lot of showboating, showing off, alley-oops, slam-dunks and that sort of thing", Simon Cokerell, General Manager of Koryo Tours, the company that stages North Korean tours for Western visitors, told CNN.
Rodman came under the scanner this week following his emotional outburst on a CNN interview, where he defended his friendship with Kim and stooped to the point of condemning Kenneth Bae, a Christian missionary imprisoned in the secretive communist state.
On Thursday he offered apologies for appearing to suggest that Bae was in the wrong, in a statement released through his public relations team.
"I want to first apologise to Kenneth Bae's family ... I want to apologise to my teammates and my management team. I also want to apologise to Chris Cuomo," the statement said.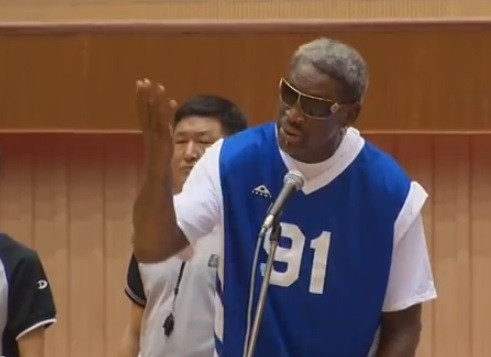 Earlier, questioned by Chris Cuomo of CNN's 'New Day' about his views on requesting Kim to release Bae, he had said: "Kenneth Bae did one thing. If you understand what Kenneth Bae did. Do you understand what he did in this country?" Rodman asked the CNN host. "No, no, no, you tell me, you tell me. Why is he held captive here in this country, why?"
"I would love to speak on this," Rodman said.
"I don't give a rat's ass what the hell you think. I'm saying to you, look at these guys here, look at them ... they dared to do one thing, they came here", he continued, referring to fellow basketball players who had arrived in North Korea to play the friendly game.
He also claimed his mission served a higher purpose. "Really? Really? I want to tell you one thing. People round the world, around the world, I want to do one thing".
"One day, one day, this door is going to open because these 10 guys here, all of us, Christie, Vin, Dennis, Charles ... I mean everybody here, if we could open the door just a little bit for people to come here and do one thing".
Rodman's comments made his fellow player Charles D. Smith to apologise for "the storm that has been created by our presence", even as he stopped short of expressing remorse for the trip.
"We're not apologising for doing what we do ... we're connecting people to basketball and people to people", he added.
Rodman made headlines in February by visiting North Korea to film an HBO documentary on "basketball diplomacy". During that time, he reportedly made lasting friendship with Kim, whom he refers to as "a friend for life".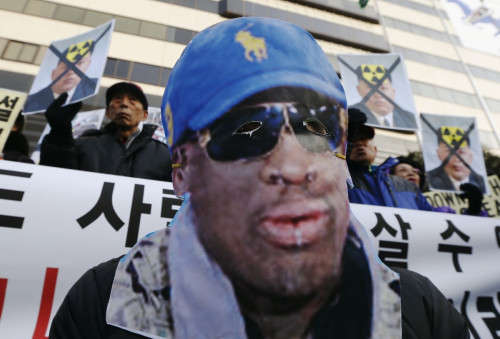 Kenneth Bae's plight

Rodman's comments on Bae, a US citizen sentenced to 15 years' hard labour in North Korea on charges of plotting rebellion, incensed his family members.
In an interview with CNN, Terri Chung, Bae's sister, expressed her shock at Rodman's comments and said she was appalled by his ignorance of the case.
Myunghee Bae, his mother, had reportedly said that her son was a devout Christian and did not understand the system in North Korea, where religious activities are forbidden.
Bae is married with three children, and had described himself as both a tour operator and a missionary to North Korea.
He is suffering from deteriorating health, and White House has Pyongyang to release Bae on humanitarian grounds.
He was recently transferred from the labour camp to hospital due to his worsening health condition.
Bill Richardson, a former US ambassador to the United Nations who had worked to secure the release of an American detained in North Korea in 1996, also criticised Rodman's comments.
"I think Dennis Rodman crossed a line this morning by implying that Kenneth Bae might be guilty, by suggesting that there was a crime", said Richardson.
"There is no crime. Kenneth Bae is an American detainee that's been there a year in bad health, who deserves to come home", he added.