Aisha, a 20-year-old Rohingya woman who arrived in Bangladesh a month ago, gave birth to her first child in a health clinic run by the International Organization for Migration (IOM) in Bangladesh's Leda village. As the yet-to-be-named baby girl slept next to her, the young mother recalled the horrifying tale of her escape from Rakhine state in western Myanmar.
She said she was six months pregnant when her village suddenly came under attack by the country's military and the family decided to flee. Despite being heavily pregnant, Aisha crossed a river to reach Bangladesh, along with her family members.
"I only had the clothes I was wearing," Aisha recalled and said that her family had to move slower than other villagers as her condition forced her to take frequent stops. "I was in a lot of pain," she said.
Aisha added that her husband, who had fled along with her, is yet to see their daughter because he is in a Cox's Bazar hospital getting treatment for gunshot wounds that he had sustained while crossing the border.
More than 600,000 Rohingya Muslims who fled Myanmar over the past five months, since late August after violence hit their native Rakhine state, are living in temporary shelters in Cox's Bazar. The mass exodus has emerged as one of the biggest migrant crises in the world and has been blamed on military action by the Myanmar army. However, the government has vehemently denied the allegations.
Reports also emerged recently that many women and children have suffered sexual abuse at the hands of Myanmar soldiers as part of their crackdown on the ethnic minority community in the country, which the United Nations has termed as "ethnic cleansing". Media reports also claimed that rape and sexual abuse incidents have taken place in the refugee camps as well.
Aisha, who has been fortunate to not fall prey to sexual predators trying to take advantage of her condition, is now living with her family and her daughter at a camp near the health clinic.
However, the trauma of having to flee her own home and to live amid all the uncertainties has taken away her hopes of a stable future. Aisha wants to educate her daughter but said that she "does not even know what will happen in the future".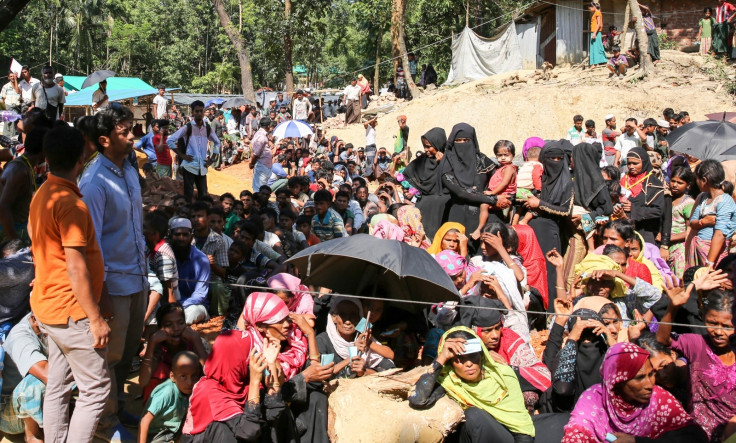 Another young Rohingya Muslim, who asked not to be named, recounted the horror of being attacked in his own village and fleeing the violence. "When the violence started, we could not escape. Our village was surrounded by 300 to 400 armed men," the man said.
"They started shooting at us. Somehow, we escaped and came here to Bangladesh. During the first attack, while we were trying to escape, they did not get me. But eventually, while they were chasing us, I got shot."
The man said he received a bit of treatment from locals in the area for nearly seven days in different villages while on his way to Bangladesh. When he finally reached the country, he was referred to an IOM health camp at Cox's Bazar and then to Chittagong. "After treatment, I feel better. I can move my hand like before," the man said after recovering from the gunshot wounds. Like hundreds of other refugees living in camps in Bangladesh, he too said he was unsure if he would ever be able to return home.
While medicines and treatment may have helped heal the physical wounds sustained by the Rohingyas while fleeing the violence in their home state, the incidents have scarred their memories for life. Their futures are uncertain even as the governments of the two neighbouring nations are engaged in negotiations over a safe return for the Rohingya population to their homeland.
In fact, children are more prone to be affected by these haunting incidents, Johnnie Hamilton-Mason, professor of social work at Simmons College, told IBTimes UK.
She said that a child's environment helps in building their resilience to cope with stress and trauma, but the uncertainty surrounding how long these Rohingya children will have to stay in camps was making it difficult for them to heal, emotionally and mentally.
"Survivors experience a range of physical and psychosocial effects, including injury, sexually transmitted diseases, depression, post-traumatic stress disorder, social stigma, rejection and isolation. The trauma of war or forcibly leaving homes is enough to trigger anxiety and post-traumatic stress disorder (PTSD)," she noted.
Hamilton-Mason added that survivors of violence and exodus may also show symptoms of new mental disorders that could stem from "the uncertainty of what is going to happen to them in the future and the living conditions in refugee camps".
"Having witnessed the death and torture of family members increases hopelessness, despair, depression and other symptoms of PTSD," she added, warning that refugee children are in greater need of mental healthcare than adults.