Since late August, more than 620,000 Rohingya have fled Myanmar's Rakhine state into neighbouring Bangladesh, seeking safety from what the military described as "clearance operations" and what the United Nations and others have said appeared to be a campaign of "ethnic cleansing".
Award-winning photojournalist Kevin Frayer has returned to Bangladesh to document the hardships faced by the refugees, 60% of whom are children. His haunting black-and-white photos of exhausted, traumatised families desperate to reach safety give a face to the world's biggest humanitarian crisis.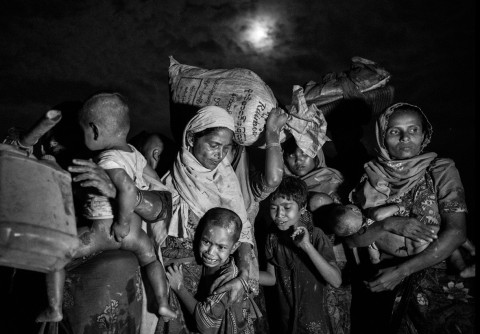 The military has been accused of using acts of violence and intimidation and burning down homes to force the Rohingya to leave their communities. Rights groups have accused Myanmar's military of atrocities, including mass rape, against Rohingya during the clearance operation. Myanmar's army denies all allegations of rape and killings, saying its own internal investigation exonerated security forces of all accusations of atrocities.
Rohingya Muslims have faced state-supported discrimination in Myanmar for decades. Rohingya were stripped of their citizenship in 1982, denying them almost all rights and rendering them stateless. They cannot travel freely, practice their religion, or work as teachers or doctors, and they have little access to medical care, food or education.
A new Amnesty International report says Myanmar has subjected Rohingya Muslims to a "vicious system of state-sponsored, institutionalised discrimination that amounts to apartheid". The report says the discrimination has worsened considerably in the last five years.
There were thought to be around a million Rohingya living in Myanmar until October last year, when a Rohingya militant group killed several officers in attacks on police posts, and the military retaliation sent 87,000 Rohingya fleeing.
A larger militant attack on 25 August this year killed dozens of security forces, and the military response was swift and comprehensive. Rohingya villages were burned down, and hundreds of thousands of people fled, some of the survivors bearing wounds from gunshots and land mines. Though the waves of refugees are now thinner, people are still crossing the border nearly three months later.
Many have walked for up to 10 days before they were able to cross the river into Bangladesh. Along the way, some say, they were robbed by Myanmar soldiers of what little cash and meagre belongings they had. All arrive hungry, dehydrated and exhausted. Some collapse. Others weep as they cling to their children.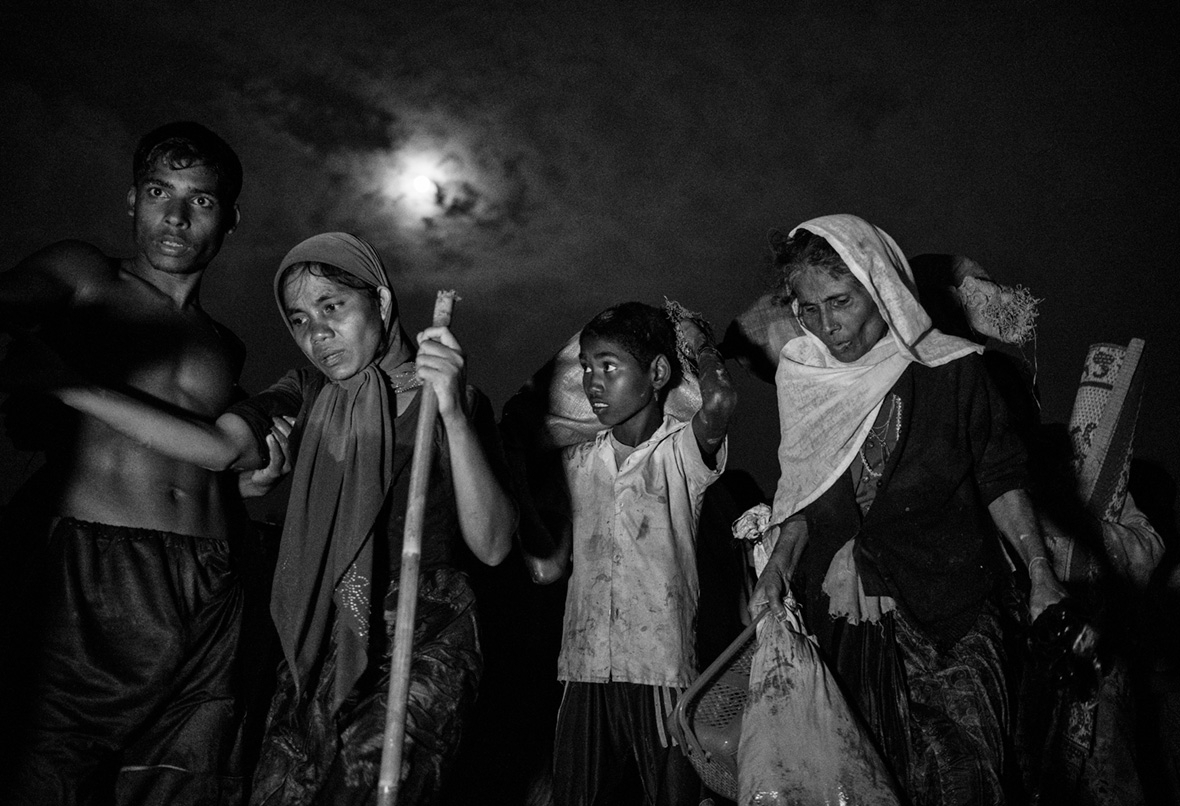 After crossing the border, the Rohingya refugees seek refuge in crowded camps in Bangladesh, itself a poor country struggling, along with international aid agencies, to cope with the influx. They stand in long lines for hours to collect food rations distributed by aid agencies.
Many people in the queues for food are unaccompanied children. They usually have to stand for hours, though they are not guaranteed to get the food and resources they require as the number of people in need rises.
Panic sometimes erupts if supplies run out.
The asylum seekers survive on handouts coordinated by Bangladesh's government and various UN agencies and NGOs. These vulnerable people are the most at risk of malnutrition and diseases as conditions worsen in the camps.
They are more susceptible to waterborne diseases spread by an acute shortage of clean water and sanitation facilities, as well as the common cold and fever.
Aid workers and refugees say health conditions are worsening due to the cramped living quarters, dire hygiene situations and soaring temperatures.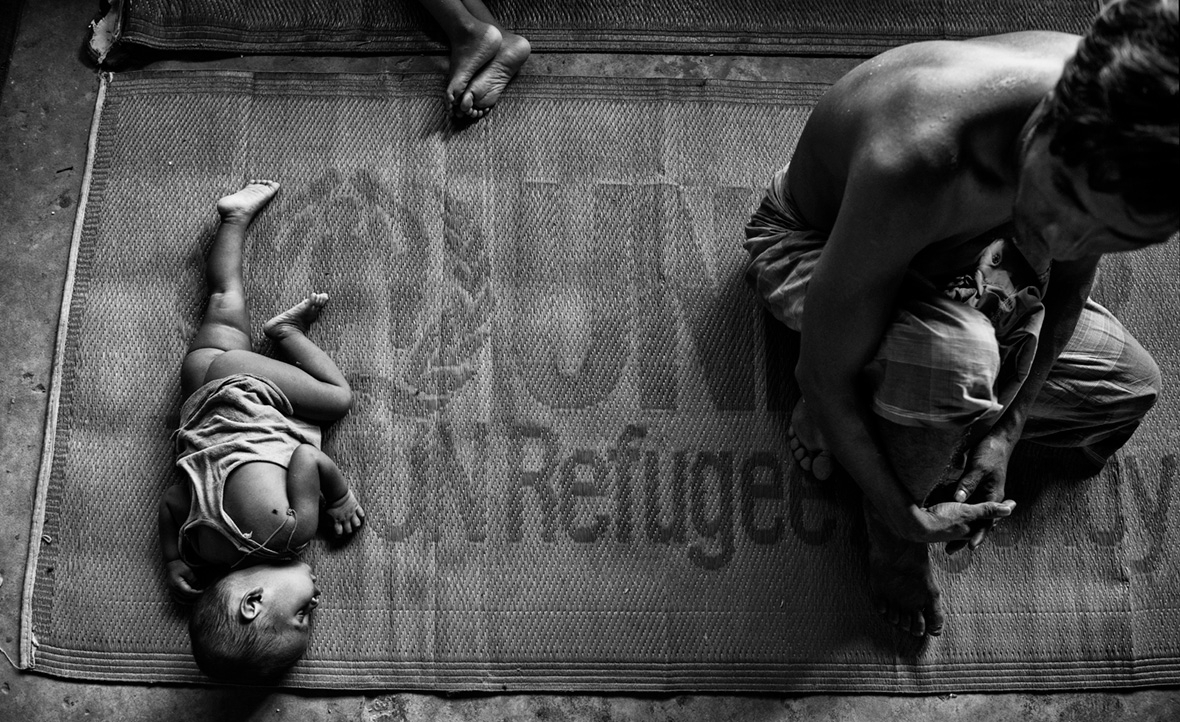 Three out of every five Rohingya refugees are children, meaning there are around 450,000 children in the camps in Bangladesh. Providing them with nutritious food, proper healthcare and education is a huge challenge. One in five Rohingya children under the age of five is estimated to be acutely malnourished, requiring medical attention.
For the refugee children, malnutrition is one concern but unhygienic conditions in the camps mean that the risk of disease looms large. Rohingya refugees need nine million litres of potable water every day – a volume of demand that is nowhere near being met.
"We are sitting on a time bomb kind of thing. It's ticking all the time, and if we don't keep on reacting, it could just explode any moment and we could face another emergency within this existing emergency," said AM Sakil Faizullah, spokesperson for the United Nations International Children's Emergency Fund (Unicef).
In addition to the importance of providing the children with healthcare and combating the risk of human trafficking, education is also an important issue. Unicef has set up hundreds of schools in the sprawling refugee camps to help children escape from the rigours of camp life, providing them some healthy food and atmosphere in the process.
The children in the camps are often traumatised by the violence they have witnessed. "Many Rohingya refugee children in Bangladesh have witnessed atrocities in Myanmar no child should ever see, and all have suffered tremendous loss," Unicef Executive Director Anthony Lake said.