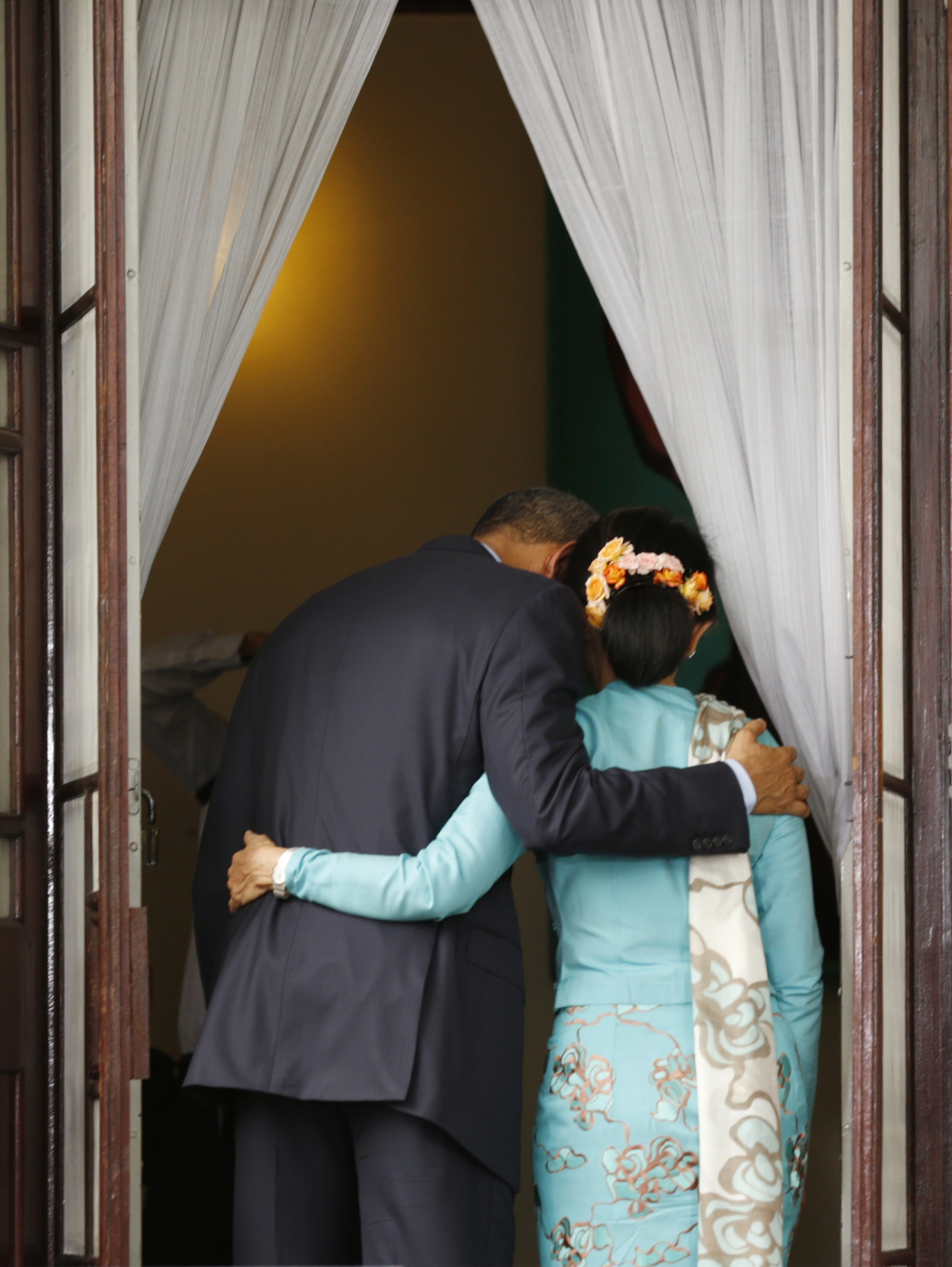 Rights groups were watching closely US president Barack Obama's Myanmar visit to check whether he would finally stand up against the oppression of one of the world's most persecuted minority groups - the Rohingya Muslims.
A social media campaign titled #JustSayTheirName was launched by United to End Genocide and thousands of people have signed an online petition and tweeted pictures of themselves holding placards with the slogan.
On his finally day of the trip, Obama finally pronounced the word for the first time at a news conference with the opposition leader Aung San Suu Kyi:
"Discrimination against the Rohingya or any other religious minority does not express the kind of country that Burma over the long term wants to be," Obama said.
The reaction was of relief:
Controversial word
The Myanmar government and local Burmese consider Rohingya, who are stateless and live in segregated conditions in the western Rakhine state, as unwelcome migrants from Bangladesh in the last century.
The state-run press differentiates between "locals" (i.e. Arakan Buddhists) and "Bengalis", to indicate Rohingya, although they have been living in the Rakhine state for generations.
Communal violence between Buddhists and Rohingya exploded in 2012 in the Rakhine, leaving about 200 people dead and 140,000 displaced. More than 100,000 Rohingya reportedly fled the country by sea.
Violence against Myanmar's Muslims was allegedly incited by extremist monks and the virulent anti-Muslim '969' campaign, which espouses hate and urges Buddhists to boycott Muslim businesses.
But the Obama administration, which has praised the reformist path adopted by Myanmar's president Thein Sein to ferry the country from authoritarian military junta rule to proper democracy, has taken a cautious approach towards the Rohingya issue.
UN officials said they avoid the term Rohingya in public to avoid causing sectarian tension in the country. When US Secretary of State John Kerry visited Myanmar earlier this year, he carefully avoided uttering the term. A state department official said that forcing a community to accept a name that they consider offensive is to "invite conflict".
Failing to speak up
The US urged Myanmar to draft a new plan to allow ethnic Rohingya to become full citizens after Myanmar laid out a controversial plan to offer them that basic human right in exchange for registering their identities as Bengali.
Critics of the plan claim the Muslim minority are given a false choice: accept ethnic change to Bengali or be detained.
US deputy national security adviser for strategic communications Ben Rhodes said the plan violates "universal rights" and challenges Myanmar's reforms.
"We would like to see a new plan that will allow the Rohingya to become citizens through a normal process without having to do that type of self-identification," he told reporters.
Suu Kyi was also criticised for not speaking up for the rights of Rohingya muslims, who are denied access to education and employment and face "unacceptable restrictions on movement, marriage, and reproduction", according to reports. Critics say that the reason behind her silence is that Rohingya are extremely unpopular with the country's Buddhist majority.
The Lady's National League for Democracy (NLD) is expected to win the 2015 polls. A current provision in the 2008 constitution blocks anyone whose spouse or sons is overseas citizen from leading the country. Suu Kyi's husband was British as are her two sons.
The NLD is still campaigning to change the constitution so that the military will not have the power to veto any amendment to the charter. The move to change the constitution, which can pave the way to effective reforms such as the bar on Suu Kyi and the proportion of soldiers in the parliament, was allegedly discussed during talks between Thein Sein and Suu Kyi.
But the Nobel Laureate is not willing to take the issue to a higher level urging people to take to the streets, for example, according to Burma Campaign UK's Mark Farmaner, who spoke to IBTimes UK last week,
"Suu Kyi has no choice," he said. "She is concentrating on trying to win any available seats in next year's elections to demonstrate public support after decades of military rule. They never agreed to change the constitution."
US president Barack Obama "underscored the need for an inclusive and credible process for conducting the 2015 elections" during telephone talks with the Burmese president.
But both Obama and Thein Sein have a common interest in portraying Myanmar as a democratic success, according to Farmaner.
"Obama wants to claim Burma as his own personal foreign policy success after failures in the Middle East," he said. "If he would speak out against human rights abuses in the country it would be like to say that his policy has failed."