Roku 4 with 4K video playback announced to take on Apple TV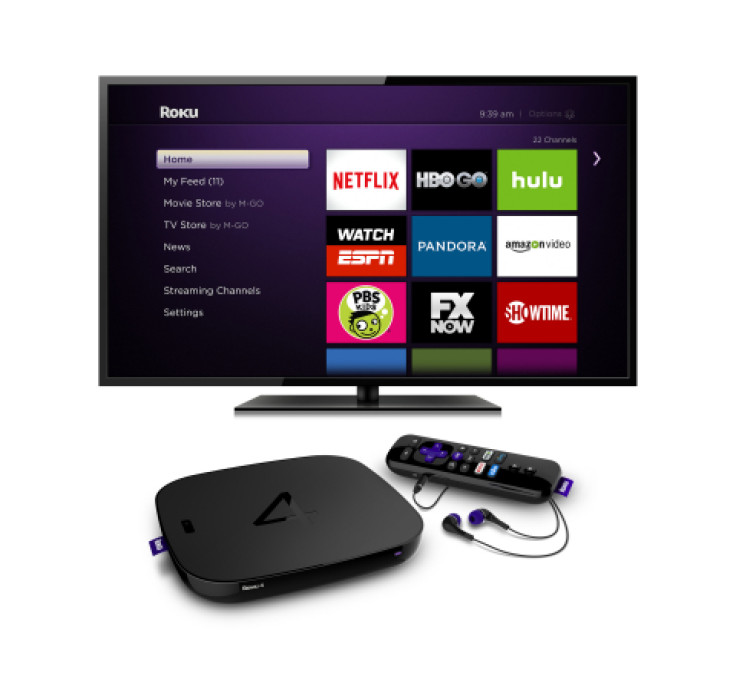 Roku Incorporation has announced Roku 4 streaming player as the successor to its last year's Roku 3. The new media streaming player is designed to take on the new Apple TV with its 4K video playback support and an all-new hardware that runs on the latest Roku OS 7.
Roku 4 is claimed to deliver "superior streaming performance" and "brilliant picture quality" on both 4K (UHD) and 1080p (FHD) TVs. It is backed by a quad-core processor that has the ability to stream 4K content at up to 60FPS. For connectivity, the media streaming device has Wi-Fi 802.11ac, HDMI out and a 3.5mm headphone jack.
On the software front, the Saratoga, California-based company has released Roku OS 7 that offers an updated Roku Feed to let viewers follow movies, TV shows, actors and directors in real time. The latest operating system is also packed with new proprietary features like Hotel and Dorm Connect and Roku Billing. In addition, there is the Roku mobile app that offers remote controlling through Android and iOS devices.
Roku 4 specifications:
4K (UHD) and 1080P (FHD) video playback support
Runs on Roku OS 7
Powered by quad-core processor
802.11ac MIMO Wi-Fi
HDMI Out, HDCP 2.2, 3.5mm headphone jack and optical audio output
Android and iOS compatibility
Unlike the new Apple TV that the Cupertino giant announced last month, the Roku 4 has a special 4 UHD category within its Channel Store to let viewers find and watch only 4K channels. Likewise, the company has provided an upgraded motion-sensing remote control along with a "Find Me" button. The new remote control has voice search support but of course, there is no Siri integration, unlike the new Apple TV that offers the same straight out-of-the-box.
"The Roku 4 is our best streaming player ever," founder and CEO Anthony Wood said in a press statement. He added, "It provides an amazing 4K experience with powerful performance and brilliant picture, at up to 60 frames per second on 4K TVs, and access to the most streaming channels with 4K entertainment, plus innovative features like Remote Finder. Powered by the new Roku OS 7, the Roku 4 gives consumers a new era of streaming performance and control over their entertainment."
The Roku 4 is available for pre-ordering from October 6 with a price tag of $130 (£86) and sales will begin in the coming weeks. The company is also developing the Roku OS for existing Roku players and Roku TVs through a software update in mid-October.
© Copyright IBTimes 2023. All rights reserved.