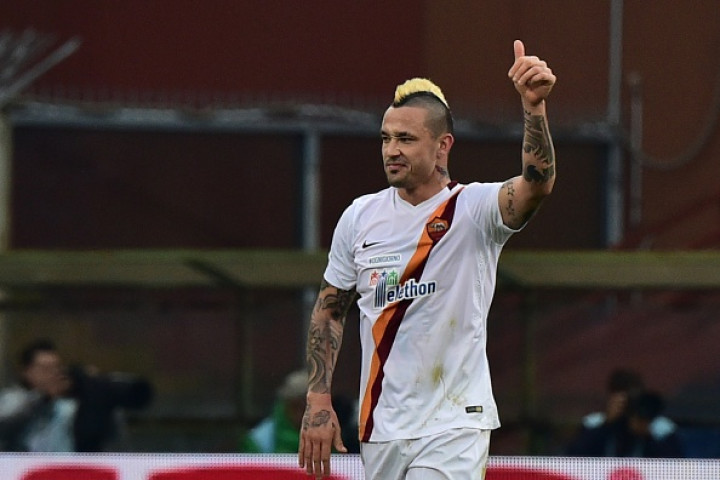 Roma midfielder and Belgian national team's football player Radja Nainggolan faced his share of the terror stigma as guests at the Radisson Blu Astrid Hotel in Antwerp, Belgium, mistook him for a terrorist. Guests alarmed by Nainggolan's cap and tattoos reportedly called the police who immediately recognised him and calmed the situation.
"Obviously, I have a look that is scary. Fortunately the police recognized me," he told La Dernière Heure. Naoufal Attar, one of the men socialising with Nainggolan on that night, later tweeted the photo, adding that the police had been called because guests thought the Roma midfielder was 'acting suspicious'. Nainggolan even posed for pictures with the policemen to show that there were no hard feelings.
Nainggolan was in the Belgium squad to face Spain this week, but the match was cancelled due to a security issue with suspected terrorists on the loose in Brussels suburb Molenbeek. He will now return to the Italian capital, where Roma resume action against Bologna this weekend. A football match in Hannover, Germany, was cancelled as well this week as the police foiled a possible terror attack.
Panic
Following the Paris attacks last week, Europe has been reeling under panic and hoax situations in fear of more possible terror attacks as warned by the Islamic State (Isis). Belgium in particular has been shaken since it was announced that the mastermind of the Paris attacks, Abdelhamid Abaaoud, was a Belgian citizen who had been planning the attacks for the last 11 months.
On Thursday (19 Novemeber) nine people were arrested in connection with the deadly attacks in Paris, during raids conducted across Brussels by the Belgian police. This year alone 275 cases related to terrorism were registered in the country, almost three times more than for all of 2011, during which 84 terror related cases had been opened.