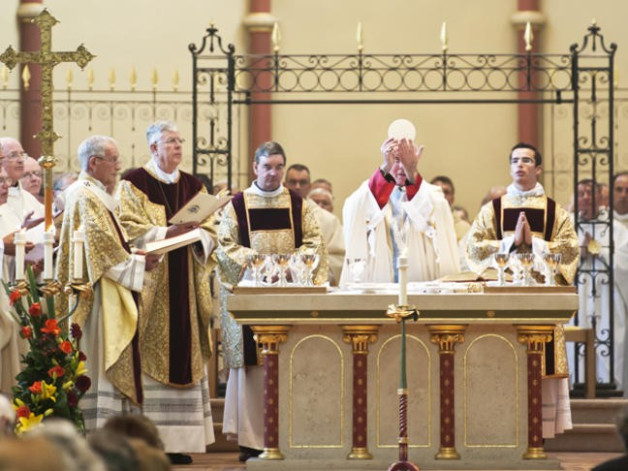 David Cameron's proposals to legalise gay marriage could lead to Catholics being imprisoned for expressing their religious beliefs in schools, hospitals, prisons and the military, according to a petition signed by over 1,000 Catholic priests.
In the first large-scale protest against the bill, due to be published by the end of January 2013, the priests said the legislation posed the most serious threat to the church in Britain since Henry VIII and the reformation.
Catholics could face persecution if the laws were passed, according to the petition, which was signed by 1,067 priests, as well as 13 bishops, abbots and other senior Catholics, representing almost a quarter of Catholic priests in England and Wales.
"After centuries of persecution, Catholics have, in recent times, been able to be members of the professions and participate fully in the life of this country," they wrote in a letter to the Daily Telegraph.
"It is meaningless to argue that Catholics and others may still teach their beliefs about marriage in schools and other arenas if they are also expected to uphold the opposite view at the same time. Legislation for same sex marriage, should it be enacted, will have many legal consequences, severely restricting the ability of Catholics to teach the truth about marriage in their schools, charitable institutions or places of worship."
The clergymen dismissed government reassurances to religious communities over the proposals as "meaningless", saying the bill would "severely" limit their religious freedom. Along with other equality laws, the priests say the Coalition's plans will silence Catholics and other Christians who work in schools, charities and other public bodies, and could even prevent them addressing the subject from the pulpit.
Christians who subscribe to traditional views of marriage could also be excluded from public sector jobs, they say. The Equal Marriage Bill, which the government will publish by the end of January 2013, could even herald a return to centuries of persecution, warn the priests. Penal laws barred Catholics from many professions until 1829, and even prevented them meeting to worship.
Teachers could face disciplinary measures for refusing to promote same-sex marriage, lawyers have warned, while hospital, prison and army chaplains could face legal action if they preach that marriage is between a man and a woman.
In their letter to the Telegraph, the priests describe traditional marriage as "the foundation and basic building block of our society", adding: "We urge Members of Parliament not to be afraid to reject this legislation now that its consequences are more clear."
"It is quite Orwellian to try to redefine marriage," said the Rt Rev Philip Egan, one of the signatories. "I am very anxious that when we are preaching in Church or teaching in our Catholic schools or witnessing to the Christian faith of what marriage is that we are not going to be able to do it - that we could be arrested for being bigots or homophobes."
Rev Dr Andrew Pinsent, an Oxford University theologian who also signed the letter, said: "We are very sensitive to this historically because the reformation started in England as a matter of marriage. We fear that a network of laws are being put in place which would violate our freedom of conscience.
"I think people in the Westminster bubble have underestimated the level of concern in the country - at a local level there is great concern about these things."
A spokesman for the Department for Culture, Media and Sport said: "We have been very clear that our plans for equal marriage will fully protect the freedom of religions bodies to preach, teach and put into practice their beliefs about marriage."