Italy is tightening security at Rome's Colosseum, one of the biggest tourist attractions in the country, amid rising threats of terrorist attacks and criticism over security lapses. Security is being beefed up at other religious sites in the city as well.
The actions were triggered after a 35-minute video, purportedly from the Islamic State (Isis), emerged with threats to "conquer Rome". There was another video on YouTube that showed a German tourist climbing up the Colosseum, raising concerns over security arrangements at the historic site.
Italy has received threats of terror strikes in the past and the wave of migrants entering the country has further fuelled security concerns. The recent attacks in different parts of Europe like France, Germany and Belgium, have also led to the country putting its major locations on high alert.
Italian justice minister Andrea Orlando told a parliamentary committee that Italian prisons have more than 150 people considered high-risk for radicalisation. He added that they were conducting a "sweeping probe" into the migrant inflow to see if the refugees have any links with IS or other terrorist groups.
The disclosure comes amid two recent arrests in the country – one a Syrian national and the other a Pakistani national – who are suspected of links with terrorist groups.
The Syrian, Mahmoud Jrad, 23, was arrested in Genoa, Italy, on suspicion of planning to travel to Syria to join former al-Qaeda affiliate Jabhat al-Nusra. Investigation into the case has included several imams in Genoa, police have said.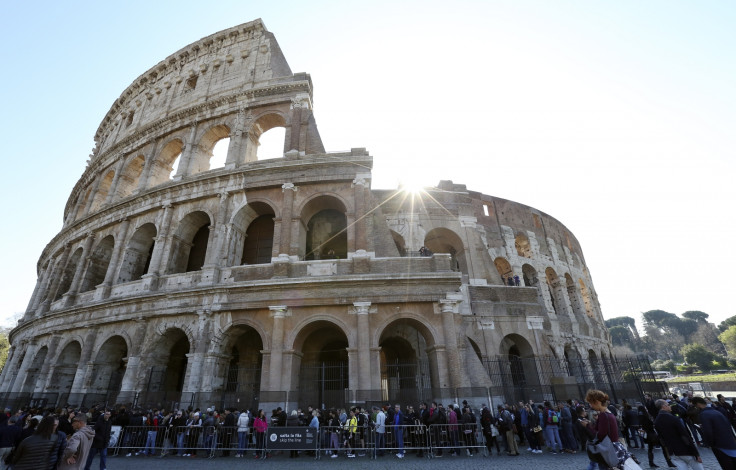 The Pakistani national, Aftab Farooq, who captained the Italian youth cricket team, allegedly pledged his allegiance to IS. Local newspapers reported that the 26-year-old was planning attacks in the country using a Kalashnikov or bomb. He was caught on wire-tap discussing attack targets like a wine shop in Milan and the airport in Bergamo in northern Italy to scare Europeans. Interior Minister Angelino Alfano was quoted by The Local as saying that the man was also planning to go to Syria to join the IS.
Rome police have already deployed about 800 more personnel in the city to protect the churches and other religious centres. Crowded places like shopping centres are also under additional vigil. For the Colosseum, Rome police chief Nicolo D'Angelo has ordered new access controls to keep track of visitors. The entrance will be guarded by police officers as the site is now under maximum security. Places around the Vatican museums and St Peter's Square are also under tighter security now, The Telegraph reported.