West Bromwich Albion manager Steve Clarke says he is powerless to prevent Chelsea recalling striker Romelu Lukaku in January.
The Belgian forward netted the first goal of his loan spell in the win over Reading on Saturday, his first Premier League goal since his switch from Anderlecht in the summer of 2011.
With only Fernando Torres and Daniel Sturridge representing Chelsea's attacking options, Roberto Di Matteo may be tempted to recall Lukaku to increase his options in the second half of the season, and Clarke admits he'll be incapable of stopping them.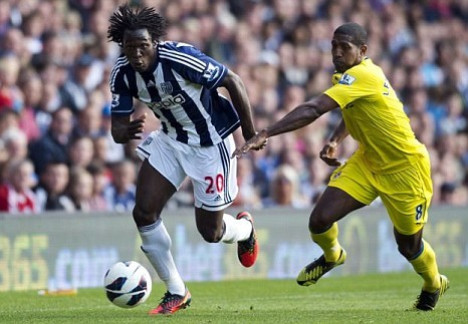 "If he scores 20 goals by Christmas and Chelsea want him back, there's not a lot I can do," Clarke said.
Lukaku was largely overlooked during his first season at Chelsea under Andre Villas-Boas, with the 19 year old left fuming with the Portuguese manager by the end of his tenure, while he refused to become involved in the celebrations after victories in the Champions League and FA Cup finals.
"I will never forgive the previous coach what he did to me and took away," Lukaku said.
"Not only because I was not on the European list, but just how he spoke to me and treated me. We got to the final but I didn't earn it. I would have had difficulty accepting a medal.
"I've not even touched the cup. I don't deserve it because I was not on the list. I don't touch anything I don't deserve. That's why I also didn't touch the FA Cup."
Meanwhile, The Blues' Juan Mata was delighted to get back to winning ways after overcoming Stoke City.
Ashley Cole's late goal helped banish the woes of the Champions League draw with Juventus in mid-week, and the Spanish international, who set up the winner, was thrilled to claim all three points at Stamford Bridge.
"It was an instinctive thing, I guessed someone was in the box waiting for the ball but I only realised it was Ashley after we scored," said Mata.
"For a full-back it is very important to go forward as well and Ashley is one of the best full-backs in the world and he showed it on Saturday.
"Always playing against Stoke is tough because they defend very well with a lot of players. They don't give us spaces to create some chances to score. But we knew that before the game.
"At half-time the manager said to us to be patient, to keep playing like we were playing and the chances will come. Always we believed we were going to score in 90 minutes. Against these type of teams we have to be patient, play with our heads and use our quality in passing the ball.
"It was a very important three points because of the other games this weekend between our rivals."