Anonymous Claims Neo-Nazi Links to Republican Ron Paul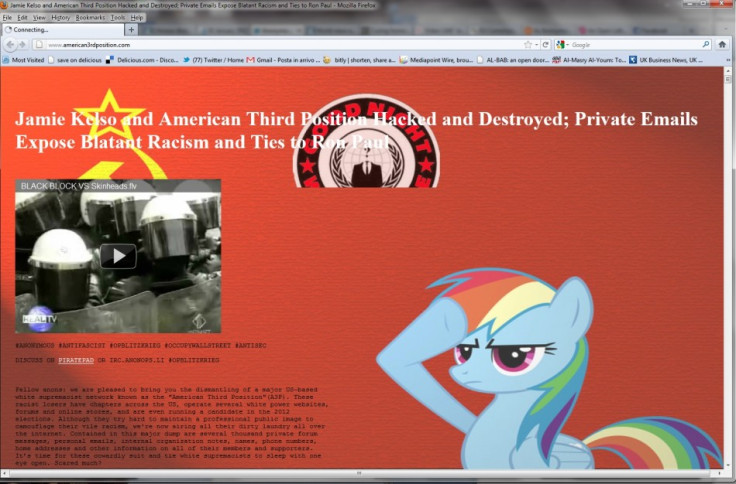 The Anonymous collective has hacked into and defaced the website of an American nationalist party, claiming it had connections with Republican presidential candidate Ron Paul.
Hackers attacked and took possession of the website belonging to American Third Position (A3P), a white nationalist party which allegedly has connections with neo-Nazi and extreme right-wing organisations.
A statement posted on the hacked homepage claims that the organisation attempts to maintain a professional public image to hide its underbelly of racism and xenophobia. The hack includes several private messages from forums, personal emails, notes, names, phone numbers and home addresses of A3P members
Anon American3P tweeted: "Mic Check. Nazi losers got haxed. TANGO DOWN American3rdPosition.com #ows #ronpaul #anonymous #antisec #antifa"
Anonymous also claims that the organisation has links with Republican candidate Ron Paul. "We found a disturbingly high number of members who are also involved in campaigning for Ron Paul," the statement said, adding that Paul had regularly met with many party members and even engaged in conference calls with its board of directors.
Another target of the hack was the A3P webmaster, Jamie Kelso. According to the hacker collective, Kelso, a former Scientologist and organiser for Paul campaign events, is also the account owner of neo-Nazi forums and websites.
Ron Paul, the American Third Position Party and Stormfront
The hacktivists said they also hacked Kelso's credit card and made donations to anti-fascist organisations, such as the Anti-Defamation League.
"We call upon not only other anti-fascists but all those opposed to white supremacy to utilise this information and make hell for these white nationalist scumbags," the statement added. "It is essential, if we wish to live in a world free from oppression, to expose and confront racists at their jobs, their schools, at their homes and in the streets."
The Anonymous hacks are part of an ongoing campaign called Operation Blitzkrieg, which is aimed at attacking and exposing the websites of neo-Nazi organisations in Europe and the United States.
The AP3 hacks follow up on its previous assault in Finland, which disabled websites belonging to several German neo-Nazi groups and published members' names.
UPDATE: The defaced website has been mirrored here
© Copyright IBTimes 2023. All rights reserved.