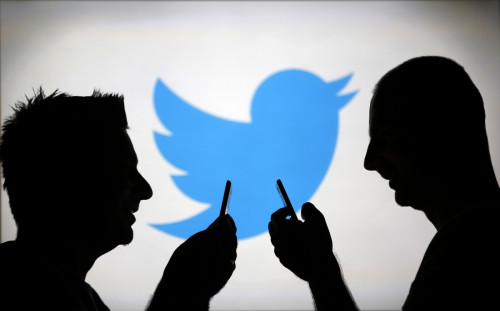 Like it or not, a Twitter account is swiftly becoming as necessary in a Premier League footballer's life as his shin pads. But in a sport where its stars habitually put their foot in it, expressing their thoughts on a medium that attracts 190 million unique visitors a month is bound to produce the odd clanger.
While Joey Barton may have led the charge in nonsensical ramblings in 140 characters or less, he has swiftly been joined by countless others who have either earned themselves the wrath of their less techy savvy gaffers, or some new found love in the Twittersphere.
IBTimes UK have narrowed down our top eight tweets that range from the comical to the utterly cringe worthy that have emerged from the world of football over the past 12 months.
8) Robert Earnshaw
Throughout the latter half of 2013 prolific journeyman Robert Earnshaw made it his business to enlighten us with a flurry of philosophical musings. This particular gem got the Toronto FC striker over 1600 retweets and encouraged us all to think about the simpler things in life.
Friendship is wierd.You pick a human you've met and you're like, "yup I like this one" and you just do stuff with them.

— Robert Earnshaw (@RobertEarnshaw) November 25, 2013
7) Nicklas Bendtner
It's the middle of the summer. You are – for the time being – a perennially frustrated Arsenal fan uncertain of what the future holds after just about creeping into the top four after a demanding season. Your club is fighting a losing battle to sign Gonzalo Higuain and a striker many of you want rid of has stubbornly turned his nose up at a number of chances to leave the club he seemingly doesn't care for anymore. What does this striker do to allay those irritations?
So what we get drunk #so what we smoke weed #we are just having fun #thats how its supposed to be… http://t.co/6MDjYlKYtw

— Nicklas Bendtner (@bendtnerb52) June 19, 2013
Alright, they are just the lyrics to a Snoop Dogg song, who the Dane happened to be hanging backstage with that night, but it wasn't the most endearing message from the striker who just happened to be accused of throwing a glass at a night club bouncer weeks earlier.
6) Cristiano Ronaldo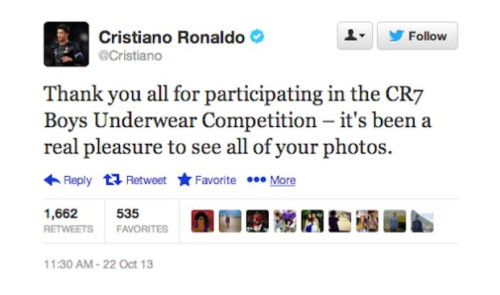 This poorly-worded blunder marked an inauspicious start to Cristiano Ronaldo's fashion career in want was just a harmless competition from the Real Madrid star. This Twitter gaffe was the result of a poorly handled promotion drive for Ronaldo's underwear range for men and boys. In regards to the boys' line, someone had the grand notion to launch a competition whereby a young fan would win some of the forward's new line and the chance to meet the man himself. It seemed like a great idea and a message through CR7's promotional Facebook page harmlessly explained:
Upload your best, craziest and funniest fan image showing your love for CR7 and win a trip to meet Cristiano Ronaldo and seen him play a match! The first prize covers three lucky people, so bring a grown-up and your best friend.
That explanation made a lot more sense. But a competition named the CR7 Boys Underwear Competition was always going to have its myriad of problems regardless of the charitable nature of it. Ronaldo, or more likely his savvy entourage of PR men, addressed the clanger after the dodgy nature of the above tweet became abundantly clear.
5) Sebastian Bassong
After a hard fought 1-0 win over Crystal Palace in November, Sebastian Bassong, as is per custom among tweeting pros, took to his account to express his delight over his side picking up three points after an excellent defensive display. Clean sheets all round! Oh.
Massive 3 points today!!we were really solid!great shift from all of us!thanks for the support!#cleanshit

— Sebastien Bassong (@BassongOfficiel) November 30, 2013
4) Louis Saha
After hanging up his boots in August, Former Fulham, Manchester United, Everton and Sunderland striker Louis Saha suddenly had a lot more time on his hands, and thanks to gems like this, we made some more for ourselves too.
Sometimes I dress like a gangster with a reverse hat on but I properly speak and be polite by opening or holding doors 2peoples. Clichéfight

— louis saha (@louissaha08) October 11, 2013
3) Mario Balotelli
If there was ever a footballer simply made for the spectacular fallout inane tweeting inevitably brings then it was Mario Balotelli. For all the shenanigans that followed him in Milan, and Manchester and back in Milan again, the Italian arrived fittingly with the sort of fascinating bombshell we were all waiting for. Check your settings, Mario.
How do i change the egg profile pic?? — Mario Balotelli (@FinallyMario) May 17, 2013
2) Dean Windass
Former journey journeyman striker and occasional incomprehensible TV pundit Dean Windass seemed a bit miffed when Southampton opted to sack manager Nigel Adkins and replace him with that fancy dan foreigner Mauricio Pochettino in January. Dean didn't manage to convey his frustration quite as well as he may have planned, however, and instead gave us an indication why he might not be in the management game himself at the minute.
What's the point in us english ex footballs doing our badgers never going 2 get jobs don't have 2 say why! — Dean Windass (@DWindass10) January 18, 2013
1) Joey Barton
And we couldn't compile a list of football's stand out moments on Twitter without one of the pioneers. Although his petty arguments, relentless goading and bizarre outbursts – describing Paris Saint Germain's Thiago Silva as a 'ladyboy' comes to mind – are probably all just a ruse to draw more followers and retweets in, it's refreshing to see the Queens Park Rangers' midfield maestro can still pull one out of the bag. Happy New Year, Joey.
I'll just re-iterate for a lot of the buffoons tweeting me. I WILL NOT BE PLAYING IN THE CHAMPIONSHIP NEXT SEASON. Hope that clears that up! — Joseph Barton (@Joey7Barton) May 14, 2013