Wayne Rooney's Manchester United career has been handed a lifeline after new manager David Moyes sought to further repair the relationship between the two on Monday evening.
While Rooney cut a disconsolate figure during United's trophy parade through the city of Manchester, Moyes addressed the Cambridge Union Society regarding his lengthy managerial career which sees him leave Everton as English football's third current longest serving boss.
Sir Alex Ferguson confirmed on Sunday that Rooney had submitted a transfer request, the second in three years, which had been rejected by the club.
The 71 year old urged Rooney to consider his future over the summer months but the England international's omission from a series of key games this season, including the weekend's final home game against Swansea City and the Champions League last 16 second leg against Real Madrid is a reflection of his standing at Old Trafford.
Moyes gave Rooney his professional debut in 2002 but saw the 27 year old leave the club two years later for United, after a transfer request helped broker a move to the Premier League champions.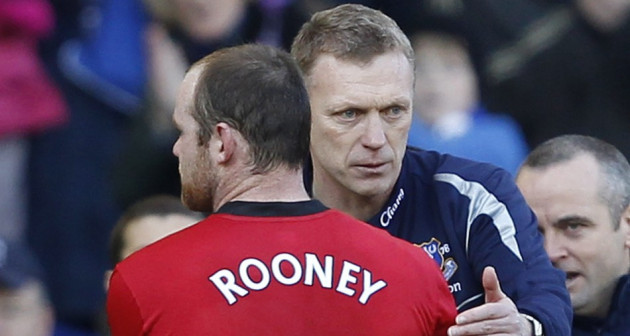 The ex-Preston North End manager sued Rooney in 2006 for comments made in a serialisation of his autobiography in a national newspaper - with the pair eventually settling out of court in 2008 - while an apology is understood to have been shared since the episode.
But Monday saw Moyes and Rooney's reconciliation reaffirmed, and with the 35-goal England forward's career at United on the precipice, both parties appear ready to set aside their differences.
"Wayne Rooney was and is an exceptional talent," said Moyes when asked if Rooney is among the top 10 strikers in world football.
"When we sold him to Manchester United, he was fantastic. When he left Everton, he was already an outstanding player.
"Some of the things he used to do in training, we would stand back and look at each other, and say, 'How did he do that?' You would see the staff exchange glances as if to say, 'Can you believe that?'
"He was brilliant, some of the stuff he did. He was football-mad - every training session he would run out, volleying the ball everywhere.
"He was just a really good 16-year-old footballer but the thing was, he could have left training and then gone out into the street and played with his pals and thought nothing of it.
"A lot of people use the terminology 'street footballer' and I really think Wayne was the last of the classic street footballers.
"You could see him in the street, hitting the ball against the walls with his friends. Part of that culture has gone but, coming from Glasgow, I knew what it was like.
"I do think Wayne really was the last true street footballer I have worked with."
The previous footballing relationship between the pair suggests Moyes could be the individual to reinvigorate the ex-Toffees striker - who has scored 16 goals in 31 club games this season while playing second fiddle to leading marksman Robin van Persie - now that fears over any lasting animosity between the two have been quashed.
Rooney's future at United worked to overshadow Ferguson's final home game in charge on Sunday, which brought an end to a career spanning over 26 years at Old Trafford but the forward's omission against Swansea coupled with a frosty embrace during the title celebrations forced the retiring Scot into revealing the extent of his prized asset's desire to leave the club.
"I don't think Wayne was keen to play, simply because he has asked for a transfer," Ferguson said.
The £25m forward, who submitted a transfer request in October 2010 only to sign a new contract less than a week later and issue a subsequent public apology, has once again burnt his bridges with United fans, with chants of his name during the team's parade of their 20th league title on Monday met with boos from the capacity crowd.
While talks with Moyes, which are expected to occur between England's back-to-back friendly internationals against Republic of Ireland and Brazil and Rooney's summer holiday, could spark a dramatic U-turn in his United career, his standing among the support represents a long-term rebuilding job.