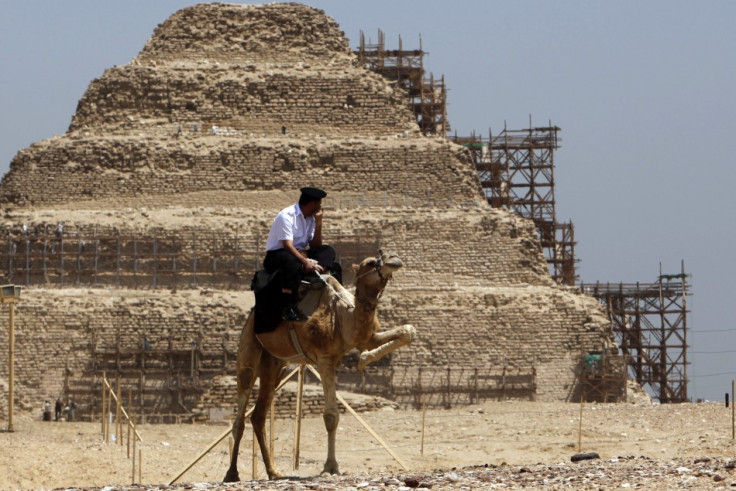 A tomb dating back to around 1100 BC has been unearthed in Egypt, the country's antiquities ministry has announced.
Archaeologists at the Cairo University's faculty of archaeology discovered the burial at the Saqqara archaeological site, located about 30km south of Cairo.
According to the Antiquities minister Mohamed Ibrahi, the tomb belongs to a guard of the army and royal messenger to foreign countries, the Associated Press reported.
Ola el-Egeizy of Cairo University, who led the excavation beginning in October last year, said the discovery "adds to the treasures of the ancient Egyptian civilization."
He insisted that the importance of the cemetery lay in its "very nice inscriptions" and its decorations that have remained in the original condition for centuries.
The tomb bears bright colour designs representing landscapes and patterns. The inscriptions inside the crypt detail the funerary procession in the region and the afterlife of the deceased.
Saqqara is Egypt's oldest cemetery having elaborate tomb monuments and numerous pyramids, including the world famous step pyramid of Djoser. The region and its surrounding areas suffered damage by looters during the 2011 Egyptian protests.
The newly-found tomb is also located near Djoser. Archaeologists had long known about the existence of the grave as stone blocks from the tomb had been stolen.
"Most of its stone blocks were stolen and many of them are in museums all over the world," el-Egeizy said, adding that what remains now at the tomb, which was once much larger, are mostly mud bricks.
Another tomb of the head of the army dating back to the same era was also excavated near the royal guard's tomb last year.