It appears former New York City Mayor Rudy Giuliani is forgetting the worst terror attack on US soil. In a campaign stop for fellow New Yorker Donald Trump, Giuliani claimed that there were no terrorist attacks in the US before President Barack Obama assumed office.
"Under those eight years, before Obama came along, we didn't have any successful radical Islamic terrorist attack inside the United States," Giuliani said while introducing the GOP nominee to a crowd in Youngstown, Ohio. "They all started when Clinton and Obama got into office."
Giuliani's comments are particularly troubling not only because the attacks occurred seven years before Obama was elected but because he was mayor of New York when the twin towers were attacked.
According to the New York Daily News, the comments were especially bizarre since Giuliani had spoken of the attacks just moments before. Giuliani praised vice presidential nominee Mike Pence for a "very, very timely" visit to Ground Zero and for his help as a then-congressman on the Judiciary Committee to "fashion to Patriot Act".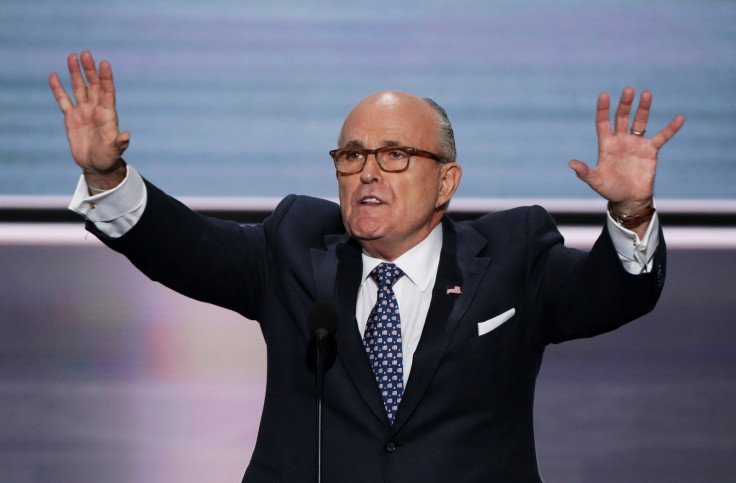 Giuliani also appeared to forget what state Pence is the governor of, the Daily News noted. "You know better than I do what a great governor he is of your state," Giuliani said. Pence is not governor of Ohio—that would be John Kasich—but the governor of Indiana.
The Daily News reported that Giuliani has made the outlandish claim regarding 9/11 before. In 2010, he said the US saw "no domestic attacks under Bush."
Trump spokesman Jason Miller told CNN that Giuliani was actually talking about the period of time after the 9/11 attacks and before Obama was sworn into office. Despite the excuse, Giuliani's remarks caused the ire of many, including 9/11 survivor Gabrielle Laine-Peters.
"SO Angry right now," Laine-Peters, who lived across from the World Trade Center, tweeted. "And as 9/11 survivor I feel I can say this describes Rudy Giuliani pretty well," she added along with a picture of an explicit word.