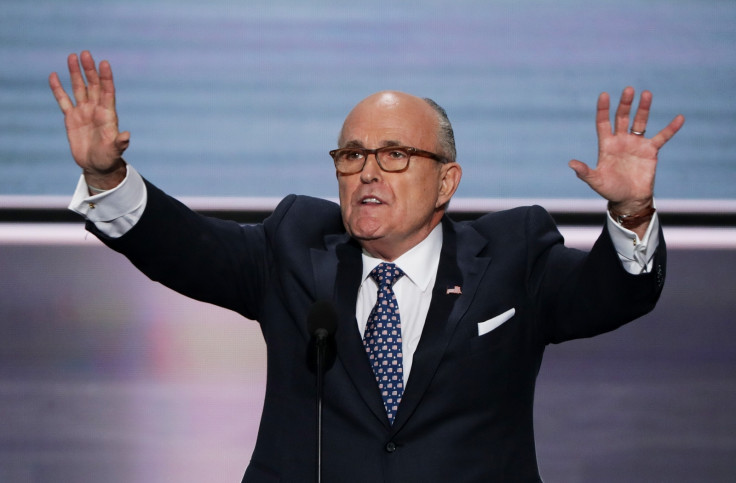 Donald Trump adviser and former New York City Mayor, Rudy Giuliani, came out in support of making Muslims on the terror watch list wear electronic monitoring tags or bracelets. Giuliani is currently advising the Republican nominee on terrorism and national security.
After being told that one of the terrorists who killed a French priest in Normandy was wearing an electronic tag while under house arrest, Giuliani said it would be a good plan to introduce in the US. "I would think that would be an excellent idea," he said. "If you're on the terror watch list, I think I should know you're on the terror watch list. You're on there for a reason."
Giuliani, who appeared at an "RNC at the DNC" press event with fellow conservative leaders, told NJ Advance Media on Wednesday (27 July) that he would recommend the practice to Trump if he is elected. He then reminded reporters he placed undercover police in mosques during his time as mayor.
"I put undercover agents in mosques for the first time in January 1994," the former mayor said. "I did it because the 1993 bombing was planned in a mosque in Union City, New Jersey, and a second plan was uncovered to bomb our subways, which was foiled. And I kept those police officers in those mosques until I left as mayor."
In his RNC speech last week, Giuliani also spoke about security. "Donald Trump has said the first step in defeating our enemies is to identify them properly and see the connections between them, so we can find them and catch them," he said, according to The Washington Post. However, Giuliani's system to track and monitor Muslims in New York as well as proposals to ban weapons to people on the watch list have been deemed a violation of people's civil liberties.
The Washington Post reported FBI Director James Comey specifically opposed the gun ban for those on the no-fly list because he did not want people to know who was on the terror watch list. "It's a little bit challenging for us because 'known or suspected' means it hasn't been adjudicated in every case that somebody is a terrorist," Comey said at a Senate subcommittee meeting last year. "It's somebody we're investigating, so we don't want to, obviously, blow our investigation."
According to The Daily Beast, Giuliani was also asked at the news conference about Trump's earlier remarks suggesting Russia hack and release Hillary Clinton's "missing" State Department emails. During the press conference, Giuliani said that the Russians should release any emails relating to Clinton so as to not have any leverage over the Democratic candidate.
He later suggested to the Daily Beast that countries regularly intervene in foreign elections and implied President Barack Obama had influenced the outcome of a recent election in Israel.
"I don't think foreign powers should be intervening in US elections," Giuliani said. "Now, the reality of politics is that foreign powers do, and sometimes we intervene in their elections. So, in an idealistic world, the reality is that foreign powers should stay the heck out of our election. We Should stay the heck out of their elections."
He continued: "But, gosh knows, President Obama was doing everything he could to unseat [Israeli Prime Minister] Bibi Netanyahu. His aides were over there, his pollsters were over there. His fundraisers were giving money to the opposition. America intervened directly in the Israeli election to defeat Bibi Netanyahu."