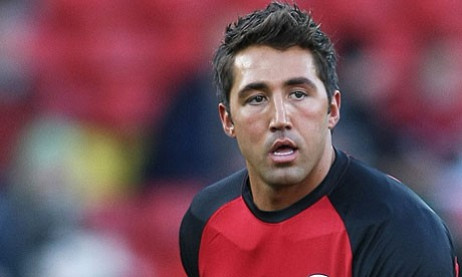 Footage has emerged online of rugby star Gavin Henson allegedly being assaulted by a Bath team-mate.
The 31-year-old former Strictly Come Dancing contestent, who only joined the club last month after he was released by London Welsh, was punched in the face and allegedly lay unconscious for five minutes during the clash.
Bath are investigating the incident, which is said to have happened during a night out at the Pig and Fiddle pub in the town centre.
According to witnesses the brawl broke out after the group had been drinking and Henson "started strutting around like he owned the place.
"One of the other players told him to calm down and after a bit of a to-ing and fro-ing he just hit him. He went out like a light for about five minutes. He just lay there like a lump, right on the floor."
CCTV footage, published by the Daily Mail, shows Henson falling to the floor after receiving the punch.
"Bath Rugby can confirm there was a minor incident in the city centre on Wednesday night involving a few members of the playing squad," a spokesperson for the Premiership side said.
"The club are investigating the matter as a priority and will only make a statement when further information is available."
Bath is the controversial former Wales international's fifth team in two years. He was sacked by Cardiff Blues in April 2012 after throwing ice cubes at passengers while drunk on a flight back from a match in Glasgow.
The fly-half or centre, who previously dated singer Charlotte Chirch , has won two Six Nations grand slams.