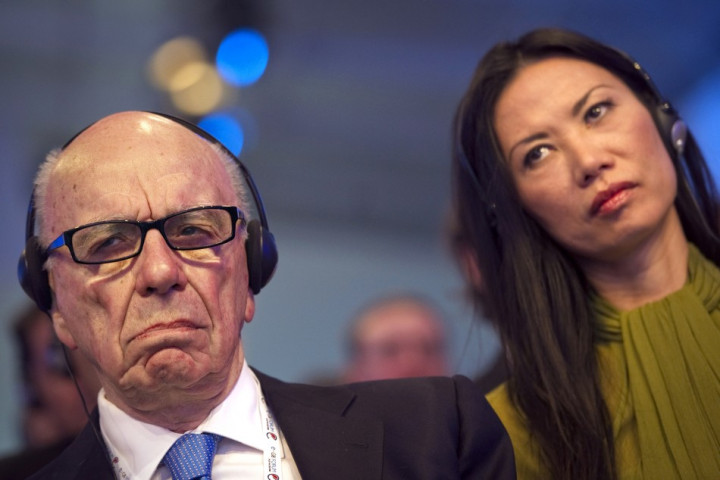 As the Australian-born billionaire Rupert Murdoch has filed for divorce for the third time, the world is wondering how much it will cost him.
Murdoch, 82, is worth some $11.2bn (£7.1bn) according to Forbes magazine's rich list, while his soon-to-be ex-wife Wendi Deng who claims she was raised in as poverty, will no doubt have her lawyers calculating what 14 years of marriage and two children (plus her now legendary defence of the mogul from the cream pie thrower in London) entitles her to interms of a hefty chunk the fortune.
The media tycoon and Chinese-born Deng, 44, got married aboard a private yacht in 1999 less than a month after Murdoch divorced from his second wife Anna, with whom he had three children.
The 32-year marriage reportedly ended with a $1.7bn bill, including $110 million in cash, for the News Corporation boss. The settlement made history as the most expensive of all times.
It is not known if before tying the knot for a third time - Murdoch's first divorce dates back to the sixties - the media oligarch signed a prenuptial agreement.
Murdoch and Deng have two daughters - Grace, 12, and Chloe, 10. It is not yet known why the power couple has become estranged. But New York Times reporter Amy Chozik tweeted that, according to the divorce filing, the "relationship between husband and wife has broken down irretrievably".
According to Hollywood gossip site Deadline, which first broke the story, the divorce is not going to impact Murdoch's media empire that is about to be split into two separate companies.
In a 2006 interview, Murdoch revealed that his two daughters from Deng were not to have voting rights in his family trust, as the reins of News Corporation were going to be passed to his four children from his previous two marriages.
Excluded by the decision making process, Grace and Chloe would have nevertheless inherited an equal economic interest in the trust.