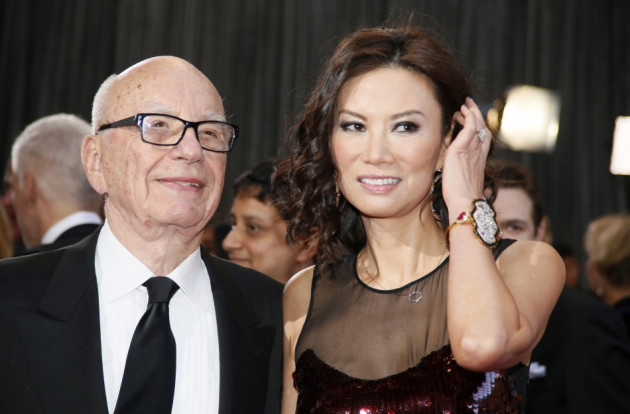 Dramatic allegations about the failure of the marriage of media mogul Rupert Murdoch and his Chinese wife Wendi Deng have begun to filter onto the internet.
Within hours of 82-year-old Murdoch confirming that he and Deng, 44, were to be divorced after 14 years of marriage, citing an "irretrievable breakdown", BBC News Business Editor Robert Peston, who is close to many in Murdoch's inner circle, said in a Twitter post: "The undisclosed reasons for Murdoch divorcing Deng are jaw-dropping".
Murdoch's biographer, Michael Wolff, posted on Twitter: "Wendi and Rupert: I'm hearing the why. The big reveal, the scandal details, could come tomorrow."
In a reference to Murdoch's second wife, the mother of his children Lachlan, Elisabeth and James, Wolff added: "The split is dramatic. As harsh as the split from Anna."
Shortly after meeting Deng in 1999, Murdoch divorced Anna with a $1.2bn (£770m) settlement in what was then the second-biggest divorce settlement in history
In what was a frenetic day of posts, Wolff went on: "Wendi knows all Murdoch's secrets. All of them. Unless she's already spoken for, I make Wendi the world's most eligible woman."
Geffen, Bono and Kidman
Deng is credited with introducing Murdoch to a circle of friends that included wealthy Democrat supporters such as music producer David Geffen, former U2 rock star and charity activist Bono, and actress Nicole Kidman. But Murdoch rarely accompanied his wife to the charitable functions she frequented, the New York Times observed in a June 2012 profile of Deng.
The marriage may have been under strain for some years.
Wolff said that, during interviews with the mogul for his biography in 2008, Murdoch would sometimes arrive for morning appointments at his own home with an overnight bag, having spent the night elsewhere.
"We would sometimes meet on weekend mornings at his apartment where it quite appeared he had not slept the night - but, rather, had arrived minutes before me with clothes bundled in his briefcase," Wolff recalled.
"Indeed, if you imagined two opposite people, save only for their evident mutual ambition, it might be Rupert and Wendi. Rupert, the cold, cryptic, scowling, impersonal, rock-hard conservative Australian aristocrat, with his four adult children unable to get over his marriage to the woman 39 years his junior.
Voting rights
"And Wendi, the energetic, ebullient, social creature, with natural liberal tendencies, whose first job in the US was at a Chinese restaurant and who had given him - 'from the fridge', after his prostate cancer - two young Chinese children."
Deng's own children with Murdoch are believed not to have voting rights in the company, despite the siblings from earlier marriages enjoying these benefits.
This is understood to have been the source of considerable bitterness in the marriage. Deng signed a pre-nuptial agreement when she married Murdoch in 1999, and the couple have since signed two further post-nuptial agreements.
Though Murdoch has been at pains to portray the relationship with Deng as beginning after his divorce to Anna, it had in fact started earlier, following their meeting in China in 1997.
Prior to its takeover by Murdoch, the Wall Street Journal reported that Deng was previously married to American businessman Jake Cherry. Cherry had employed Deng as his interpreter, bringing her from China to live with his wife and children in the US. Cherry divorced his wife in 1990 and married Deng.
The marriage lasted two years and seven months. That was "seven months longer than what was required for Ms Deng to obtain a green card," the WSJ reported in 2000.