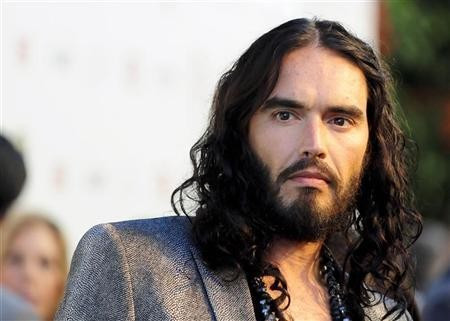 Comedian Russell Brand has cancelled his upcoming live show after his mother Barbara was diagnosed with breast cancer, for the second time.
The 38-year-old star had been due to take to the stage at the Derby Assembly rooms this evening (7 March).
He postponed the sold-out gig to spend time with his family as they help his mother prepare to take on the disease once more.
"We are very sorry, but have just been informed by the promoter that due to a family illness, Russell is unable to perform this Friday," a spokesperson told fans in statement.
"The date has been rescheduled for Monday, 14 April, 2014."
Brand, who is currently dating socialite Jemima Khan, also took to twitter to apologise to dissapointed fans and to confirm his mother's illness.
Posting a link to a YouTube video about NHS funding cuts, he told his 7.6million followers: "Sorry to eft you around with gigs. My mum ain't well. Tix will be honoured or refunded."
"My mother has currently got breast cancer," he revealed in an emotional clip.
Brand is famously close with his mother, who raised him alone after splitting with his father. She was diagnosed with uterus cancer when the Forgetting Sarah Marshall star was eight and first battled breast cancer when he was nine.