Russia accuses Ukraine of attempted armed incursion into Crimea
Kiev has denied the FSB's claims, saying it was 'false information'.
Russia has accused Ukraine of targeting critical infrastructure in Crimea and says it thwarted an armed Kiev-backed incursion into the peninsula.
Russia's secret services, the FSB, said it had stopped two armed Ukrainian attempts to get saboteurs into Crimea and dismantled a Ukrainian spy network. Russia annexed Crimea in 2014.
"The aim of this subversive activity and terrorist acts was to destabilise the socio-political situation in the region ahead of preparations and the holding of elections," the FSB said in a statement.
The FSB said the operation took place on Saturday night and Sunday morning (6 and 7 August) and that an FSB employee had been killed while trying to detain them.
The FSB added that it had found 20 homemade explosive devices, ammunition, mines, grenades and specialised weapons commonly used by Ukrainian special forces.
However a spokesman for the Ukrainian defence intelligence, denied this and told Reuters: "This is false information."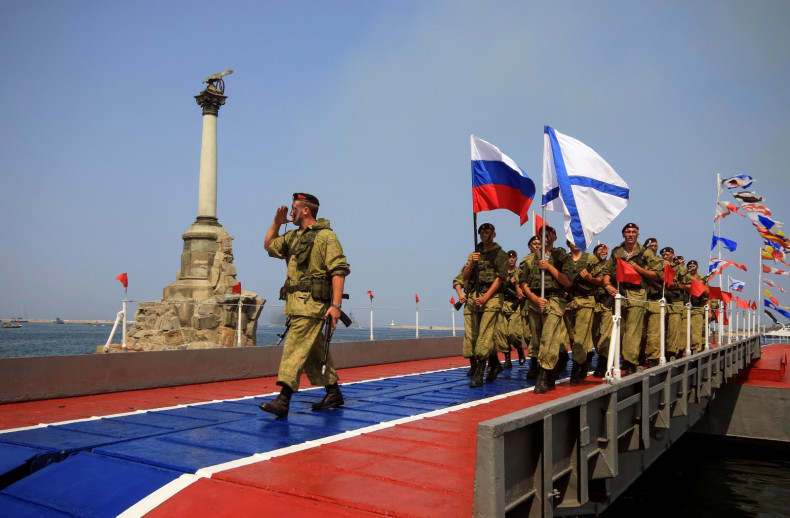 Nonetheless, the war of words has seen a ramping up of tensions as forces on both sides beef up their forces in the border between Ukraine and Russia while Kiev has accused Moscow of mobilising nuclear weapons carriers and said that Russia could invade Ukraine "at any moment".
Chairman of the International Advisory Council at the Center for Social and Economic Research (CASE), Anders Aslund, said on Twitter that the latest accusation by Moscow could be used as an excuse for war with Ukraine.
Before the Russian claims were made, spokesperson for the intelligence wing of the Ukrainian defence ministry, Vadym Skibitskyi said on Tuesday 9 August: "There are indeed carriers of nuclear weapons in the territory of the Crimean peninsula.These are grounds-based or air-delivered weapons," according to the Unian news outlet.