Somalia's foreign minister, Abdusalam Omer, welcomed the new United States envoy to Somalia, Stephen Schwartz on Tuesday (9 August) in the capital, Mogadishu.
Marking a landmark in US-Somali relations, Schwartz was sworn into office in June, making him the first American ambassador to the East African nation in 25 years. IBTimes UK looks at the man chosen to help Somalia make further significant strides in rebuilding its country and relations with the international community.
Stephen M. Schwartz was born and raised in Buffalo in the state of New York before graduating from Miami University in Oxford (Ohio) in 1980 with a bachelor's degree in Business Administration. Fresh graduate Schwartz spent two years as a volunteer in Cameroon (1981–1983) in the Peace Corps.
After attending the International Graduate School in Stockholm, Sweden between 1983 and 1984, Schwartz worked for the Peace Corps again, this time as a Desk Officer at headquarters between 1985 and 1988. During his time there, he coordinated Peace Corps programmes in Mali, Mauritania, and Burkina Faso, and opened the Peace Corps programme in Chad in 1987 - a year before leaving his post.
In 1988, he was awarded a Master's degree in African Studies from the University of London's School of Oriental and African Studies.
Schwartz joins Foreign Service
The diplomat started his Foreign Service Officer career in 1992 - the same year former president George H.W. Bush deployed American troops to Somalia, to support a United Nations humanitarian mission reportedly aimed at bringing food to the victims of a raging civil war.
But 10 months later, 18 American soldiers were killed in the Somali capital by rebels who shot down two US helicopters, in the so-called "Black Hawk Down" incident - which ultimately pushed the US out of Somalia, in 1994. The US has since provided Somalia with hundreds of millions of dollars in military support and is attempting to nudge the nation into a more representative government in a bid for more stability.
Meanwhile, Schwartz's first Foreign Service assignment was in the Ethiopian capital Addis Ababa where he spent one year as a Consular Officer, before moving to the Political/Economic section.
He then led an inter-agency team in the development of a Conflict Early Warning and Response System during a five-month interim assignment as the Department of State's representative on the task force implementing the Presidential Initiative for the Greater Horn of Africa.
From 1995 to 1996, the diplomat served as a General Services Officer at the American Embassy in Bujumbura, Burundi, before a two-year stint as Desk Officer for Sudan and a three-month temporary assignment in Nairobi. Schwartz then spent a year working as Special Assistant for African and Western Hemisphere issues with Ambassador Thomas R. Pickering, the Under Secretary of State for Political Affairs.
After a serving as a Political/Economic Officer at the US Interests Section in Havana, Cuba between 1999 and 2001, Schwartz became Deputy Political Counsellor at the US Embassy in Pretoria, South Africa.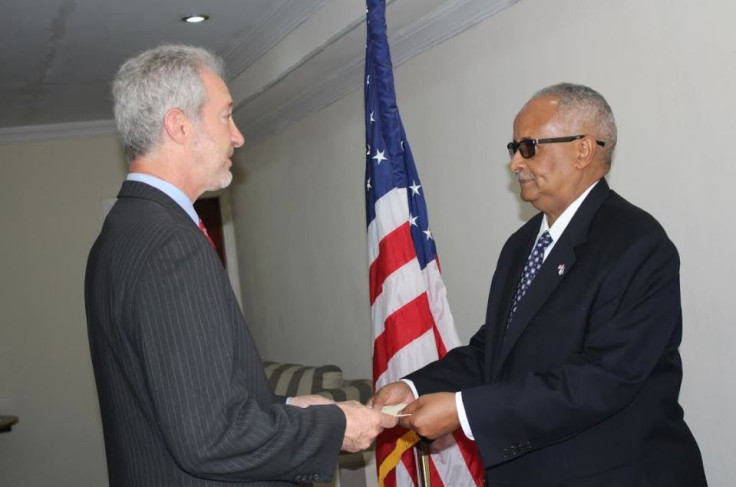 Charge d'Affaires for Mauritius, Seychelles, and Comoros
In 2004, he began serving in Mauritius as Deputy Chief of Mission and then as Charge d'Affaires at the American Embassy in Port Louis overseeing US relations with the island nations of Mauritius, Seychelles, and Comoros (2004-2007).
Between 2010 and 2015, Schwartz served as Deputy Chief of Mission at the American Embassy in Lusaka, Zambia, and then as Director at the Department of State Office of West African Affairs.
Before President Barack Obama nominated him to his post as Ambassador to Somalia, Schwartz served as Director of the Office of Australia, New Zealand, and Pacific Island Affairs in the Department of State, a position he held from August 2015 after an initial stint as Deputy Director between 2008 and 2010.
In February 2016 - and following his nomination - the US Committee on Foreign Relations said Schwartz would "bring key skills to the tasks of promoting democratic values, improving security, and advancing US economic interests in Somalia, a critical, but unstable nation in the Horn of Africa".
During Schwartz's swearing-in ceremony as Ambassador to Somalia in June 2016, Deputy Secretary of State Antony Blinken stated: "From his first days as a Peace Corps volunteer advising a cooperative in Cameroon through decades of distinguished service in the Foreign Service, Steve has proven that true leadership is equal parts confidence and humility."
Schwartz: 'A very important time for Somalia'
While the US cited the country's collapse as the main reason for the long US diplomatic absence from Somalia - the US Embassy in Mogadishu closed in 1991 - Somalia somewhat stabilised in 2012 after an internationally-backed government was propped up.
While elections are scheduled for August, the repatriation or deportation of hundred of thousands of Somalis from Kenya and persistent insecurity will be issues Schwartz will have to deal with as official ambassador to Somalia.
"I'm going to Somalia at a very important time for Somalia. It's engaged now with in a struggle with a terrorist group, an al-Qaeda affiliated group called al-Shabab which is strongest mostly in the southern part of the country, but even in the capital city," Schwartz told WBFO News.
He added: "For Somalis, who want a better life, they're trying to leave. They're among bigger components of the migrants we see trying to get to Europe and often dying in the Mediterranean and many are in refugee camps in Kenya."