Female Russian Athletes Share Passionate Kiss in Anti-Gay Protest at Moscow Games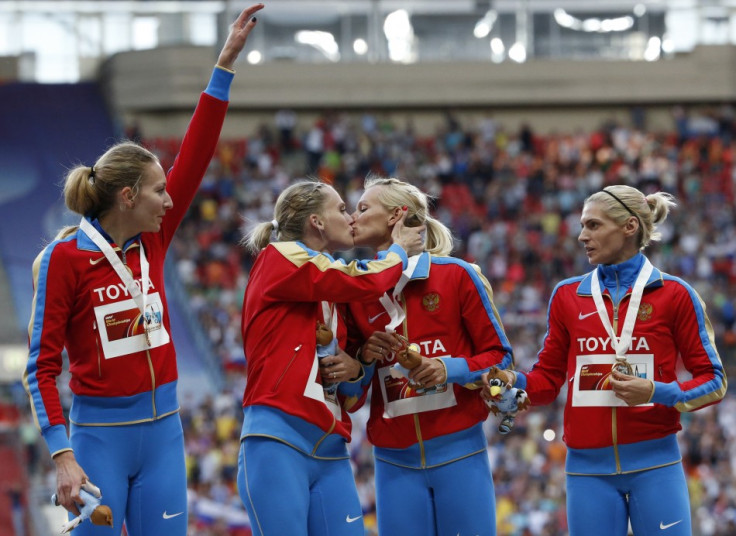 Kseniya Ryzhova and Tatyana Firova shared a full kiss on the winners' podium after helping Russia win gold in the women's 4x400m at the world athletics championships in Moscow.
The show of solidarity was a protest against the Russian government's anti-gay propaganda law, and came days after pole vaulter Yelena Isinbayeva appeared to express support for the new reforms on homosexuality.
Isinbayeva, one of Russia's most popular sportswomen, caused an international outcry when she appeared to back her country's legislation.
The 31-year-old athlete spoke out after other athletes, such as Swedish high jumper Emma Green-Tregaro, painted her nails in rainbow colours to express opposition to the Russian law.
"It's disrespectful to our country, disrespectful to our citizens because we are Russians," Isinbayeva told a news conference, speaking in English.
However, the pole vaulter later said she had been "misunderstood" as English was not her first language.
"What I wanted to say was that people should respect the laws of other countries particularly when they are guests," she said in a statement.
"But let me make it clear I respect the views of my fellow athletes, and let me state in the strongest terms that I am opposed to any discrimination against gay people on the grounds of their sexuality (which is against the Olympic charter)."
Critics say the International Olympic Committee should remove Isinbayeva from her role as an ambassador for the Youth Olympics.
Moscow says all athletes will be free and safe to compete at next year's Winter Olympics regardless of their sexual orientation, but have to obey Russian law.
Foreigners found guilty of violating the law can be fined up to £100 and face administrative arrest of up to 15 days, and even deportation.
Broadcaster Stephen Fry has called for a boycott of the event, comparing President Vladimir Putin's treatment of gay people to Adolf Hitler's treatment of Jews.
He says that allowing the Games to go ahead in Russia would be similar to the decision to hold the 1936 Olympics in Nazi Germany.
With Russia due to hold the Winter Olympics next year and football's World Cup in 2018, the government's stance has been widely criticised, including condemnation by US President Barack Obama.
READ MORE...
Russia in New Homophobia Storm as Video Shows Thugs Beating Transvestite [WARNING: GRAPHIC CONTENT]
Russia's Gay Shame: Gulag Olympics Prop up Empire of Evil [BLOG]
© Copyright IBTimes 2023. All rights reserved.