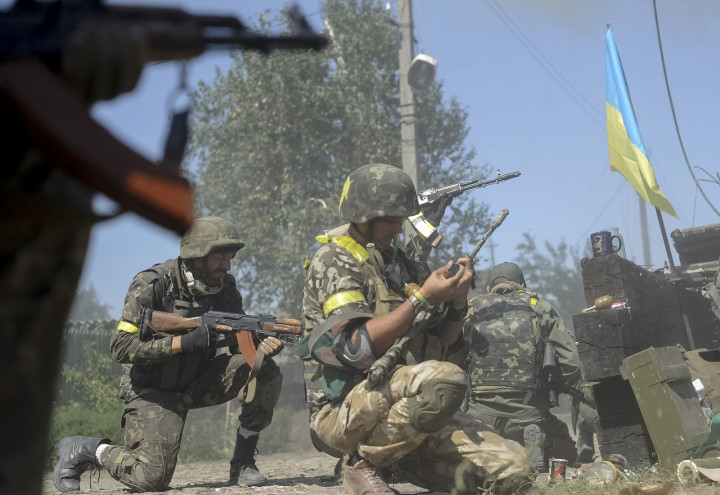 Ukraine has accused Russia of beginning a full-scale invasion after intelligence reports suggested that at least 1,000 Russian troops have already crossed the border as world leaders are scrambling to discuss the situation.
"This is a clear that we have a full-scale Russian invasion," said Oleg Odnorozheko, the deputy chief of Ukraine's Azov Battalion, whose fighters are already involved in the battle with Russian separatists.
Despite Russia's repeated denials, Nato, citing satellite images, said hundreds of troops, equipped with heavy weapons, are currently entering southern Ukraine.
"The images, captured in late August, depict Russian self-propelled artillery units moving in a convoy through the Ukrainian countryside and then preparing for action by establishing firing positions in the area of Krasnodon,Ukraine," Nato said in a press statement.
Nato is holding an emergency meeting shortly.
Western leaders have warned Russian President Vladimir Putin against intensification of the conflict.
"Russian troops are intervening directly in fighting on Ukrainian territory," Swedish foreign minister Carl Bildt wrote on Twitter, adding: "We are now evidently seeing fighting between regular Russian and regular Ukrainian forces in eastern Ukraine. There is a word for this."
German Chancellor Angela Merkel said: "We are getting reports of an increased presence of Russian soldiers and of new unrest and fresh advances of the separatists in areas that until now were very quiet. We made it clear in March this year that if there were a further escalation, more sanctions would have to be discussed."
Ukraine has also called for an emergency session of the UN Security Council to demand scaling down of the Russian operation. However, Moscow has the power to veto any UNSC outcome.
The US National Security Council is also meeting to discuss the escalating crisis.
During a hastily arranged press conference President Barack Obama squarely put the blame on the Russian side for the rising tensions.
Ruling out any military action against Russia, Obama said: "There is no doubt that this is not a home-grown, indigenous uprising in eastern Ukraine. Russia is responsible for the violence in eastern Ukraine.
"The violence is encouraged by Russia. The separatists are trained by Russia, they are armed by Russia, they are funded by Russia. Russia has deliberated and repeatedly violated the sovereignty and territorial integrity of Ukraine and the new images of Russian forces inside Ukraine make that plain for the world to see."