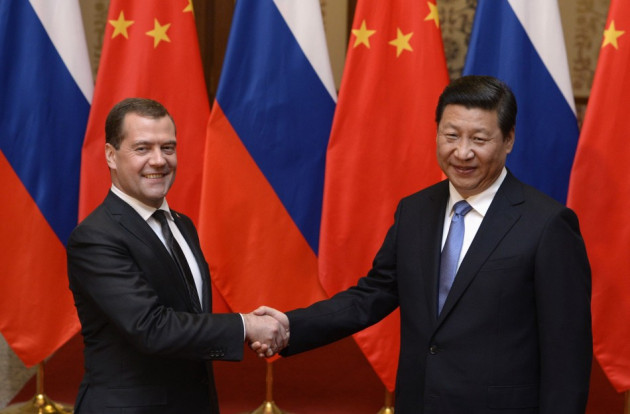 Russian Prime Minister Dmitry Medvedev who is on a two-day visit to China said the countries will enhance their economic cooperation, especially in the energy sector.
The official Xinhua news agency, citing Medvedev, said the countries have signed an agreement under which Russia will supply an additional 10 million tonnes of crude oil per year to China through Rosneft over the next 10 years.
"[We] will supply an additional 10 million tonnes of crude oil each year [to China], which will be done by Russia's biggest oil company Rosneft. It means 100 million tonnes in the next 10 years, worth a total of 85 billion US dollars," Medvedev said during an online chat with netizens from across China via Xinhuanet.com.
"It is a big sum of money to any country, even to China. It testifies to the fact that we have reached a higher and a brand new level of cooperation," he said.
Medvedev added that the countries will join hands to construct an oil refinery in Tianjin. The refinery, a joint venture between China's largest oil and gas firm China National Petroleum Corporation (CNPC) and Rosneft, is expected to process 16 million tonnes of crude oil every year.
CNPC will have a 49% stake in the joint venture, while Rosneft will take up the remaining 51%.
"It is a high-tech project, which will employ the most advanced oil refinery technologies," Medvedev said.
Chinese Premier Li Keqiang and Medvedev have earlier co-chaired the 18th regular meeting between the heads of government to boost bilateral ties.
China's Rising Energy Demand
China is currently the world's fastest-growing major economy with annual gross domestic product growth rates averaging 10% for the last 30 years.
In addition to being the most populous country, the unprecedented economic growth has increased its energy needs. Furthermore, increasing income levels have made China the world's biggest auto market by number of vehicles sold.
China's liquid fuels use is expected to grow by 13% between 2011 and 2014 to more than 11 million barrels per day, according to the US Energy Information Administration (EIA). Meanwhile, oil production in China is expected to increase by 6% over the period.
In September China overtook the US as the world's largest net importer of oil.
China's crude oil imports are expected to climb 7.3% and account for 58% of the country's total consumption, according to China National Petroleum Corp (CNPC).
Russian Ties
Russia, being the largest oil-producing nation at 10.73 million barrels of oil per day, has been taking advantage of China's rising oil demand.
China imported 24.33 million tonnes of crude oil from Russia in 2012, according to official statistics.
In June, CNPC and Rosneft signed a long-term agreement in St Petersburg for supplying 365 million tonnes of oil to China in the next 25 years, with an estimated value of $270bn (£167bn, €197bn).