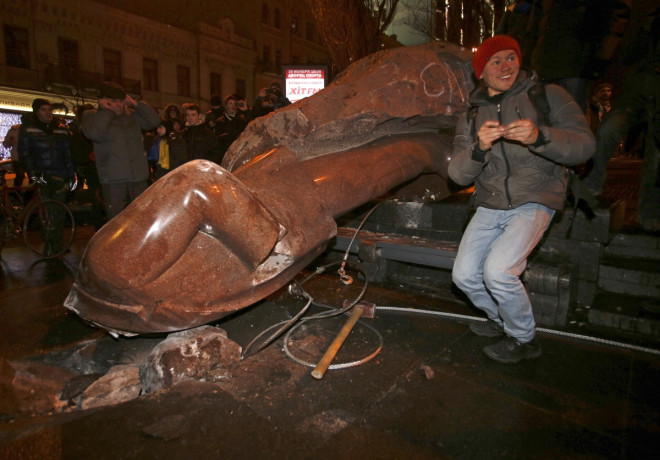 A day after Ukrainian president Viktor Yanukovich was ousted from power through a parliamentary vote, monuments of Lenin are being destroyed across the country.
Statues of the communist leader have been pulled down in many parts of the former Soviet republic, especially in the eastern and southern regions.
Clashes have also been reported in Kharkiv, the site of the biggest Lenin monument. Some anti-government protesters have been confronted by local armed groups, triggering skirmishes.
Injuries have been reported.
Local reports said Lenin's statues in cities such as Zhitomir, Khmelnitsky, Brovary, Poltava, Chernihiv, Dnepropetrovsk, and Boyarka were being brought down using ropes and crowbars.
The situation remains volatile in Ukraine as both sentiments - loyalty towards Russia and a close relationship with the EU - run deep among the divided public.
The three-month-long protests which culminated in Yanukovich's expulsion by parliament initially began as a campaign against the government for failing to secure a key deal with the EU, siding with Russia which does not want to let Ukraine out of its orbit.
Pro-EU protesters continue to camp in central Kiev.
Meanwhile, the whereabouts of Yanukovich remain unknown. Earlier, there were reports that he had tried to flee to Russia but his plane was refused clearance to take off from the eastern city of Donetsk, a stronghold of the former president. According to AP, he was later driven away from the airport.