More than 20 gay rights activist have been arrested during protests against a law that would criminalise people for spreading homosexual "propaganda".
Protesters against the bill clashed with Christian activists outside Russia's State Duma in Moscow after staging a "kissing protest".
The bill would lead to fines or prosecution for engaging in "propaganda of non-traditional sexual orientation" among minors.
"Spreading information aimed at forming non-traditional sexual behaviour among children, suggesting this behaviour is attractive, and making a false statement about the socially equal nature of traditional and non-traditional relationships" could carry a jail term.
The legislation, backed by the Kremlin, would also see a ban on gay rallies and make it an offence to suggest that gay relationships were equal to "traditional", or heterosexual, ones.
Gay activists were heavily outnumbered by supporters of the bill, with around 200-300 singing Orthodox Christian prayers and chanting "Russia is not Sodom" at protesters.
Sergei Zheleznyak, a lawmaker of ruling United Russia party, said: "Russia is a country of traditional values, in which more than 90 percent of the population supports the ban on propaganda of homosexuality among minors.
A second lawmaker,Yelena Mizulina, added: "Traditional sexual relations are relations between a man and a woman, which are a condition for the preservation and development of the multi-ethnic Russian people.
"It is precisely these relations that need special protection by the state."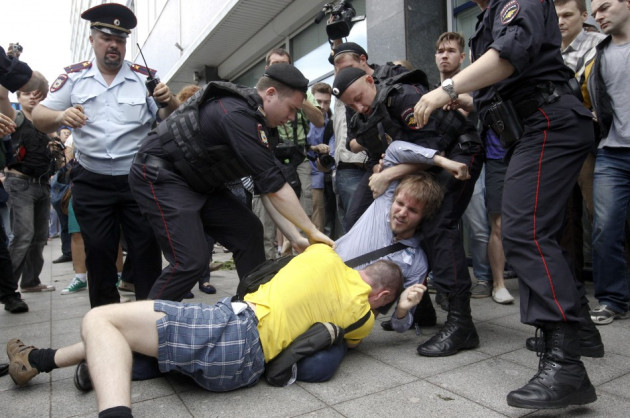 The bill is expected to be passed by the lower house of parliament, despite criticism that it could fuel homophobic attacks and ignores basic freedoms among citizens.
"There is already enough pressure and violence against gays and with this law it will only continue and probably get worse," 18-year-old Viktoria Malyasova told Reuters.
"I may not be gay but I came to stand up for my rights and the rights of other people to love whom they want."
Activists have said violence against homosexuals has increased since President Vladimir Putin returned to power.
Russian authorities said two murders in recent weeks could be linked to homophobia.
The new bill is seen as part of an effort to promote traditional Russian values as opposed to Western liberalism, which the Kremlin and the Russian Orthodox Church see as corrupting Russian youth and contributing to the protests against Putin's rule.
If the Duma passes a bill in its third reading as expected, it goes to the senate before being signed into law by Putin. The first reading of the bill was passed in January by 390 votes to one.