Russia has slammed the UK over Foreign Secretary Boris Johnson's last-minute decision to cancel his landmark visit to Russia to meet his counterpart Sergei Lavrov over developments in Syria.
In a stinging attack, the Russian foreign ministry in Moscow and its embassy in London both belittled the UK's influence in the crisis and in other global issues.
The Russian embassy took its criticism to the social media world with two mock polls.
One asked would-be respondents their level of trust in Donald Trump's ability as a wartime leader with Boris Johnson "as his lieutenant" if there were a real war.
The second poll asked its social media followers to vote on the probable outcome if US Secretary of State Rex Tillerson, who is due to visit Moscow this week, delivers a G7 ultimatum to Moscow.
Separately, Russian foreign ministry said that the UK had a "fundamental misunderstanding or lack of knowledge of the events in Syria, Russia's efforts to settle that crisis and the general objectives of diplomacy".
"The decision to call off Johnson's visit to Moscow confirms once again doubts in the presence of added value in speaking to the UK, which does not have its own position on the majority of present-day issues, nor does it have real influence on the course of international affairs, as it remains 'in the shadow' of its strategic partners.
"We do not feel that we need dialogue with London any more than it does," the statement added.
It said the meeting between the two foreign ministers was to allow "detailed and open discussion of all the complex international problems" and to discuss the relationship between Russia and the UK.
The Russian embassy in London said that it was "deplorable" that Johnson felt unable to meet his counterpart Lavrov.
On the homefront, Johnson has also come under criticism for cancelling the meeting instead of trying to engage with Moscow. Britain's International Development Secretary Priti Patel was repeatedly asked for an explanation on the Andrew Marr Show and failed to give one.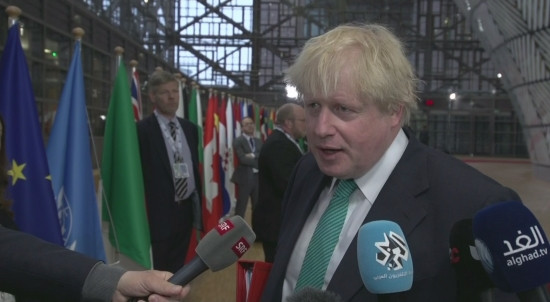 Labour's shadow chancellor John McDonnell told Sky News: "He [Johnson] should be saying to the Russians just how appalling this situation is and the role they should play.
"We have got to be frank with them and we shouldn't allow the Americans to go off and do that. We should be doing that ourselves."
Alexey Puhskov, a senator and former Russian foreign policy official, told the Guardian: "The cancellation of Johnson's visit to Moscow is just proof that London has nothing to say to us except the standard accusations. An empty waste of time."
Scotland's former first minister Alex Salmond said Johnson "just looks daft".
Johnson the poodle of Washington
"What is the argument for not going ahead with a visit? Rex Tillerson is going on Wednesday so it can't be that we have moved to a cold war position of no talking whatsoever."
Tim Farron, the leader of the Liberal Democrat party, accused Johnson of being a "poodle of Washington" for stepping back ahead of Tillerson's visit.
The UK Foreign Office said Johnson's meeting was called off due to "Russia's continued defence of the Assad regime".
It was the second time Johnson has cancelled a trip to Russia. His first was scheduled at the end of March but was postponed because it coincided with the meeting of Nato foreign ministers.