As Theresa May invoked Article 50 of the Lisbon Treaty to get Britain's divorce from the EU underway, the UK's foreign secretary and leading Leave campaigner, Boris Johnson, hailed "the most famous ignition sequence in diplomatic history".
Calling on the country to get behind the prime minister as she embarks on a two-year negotiating process with the bloc, Johnson said: "We are all going together on a mission to create new friendships, to rekindle old relationships, to search for new trading opportunities as this country was able to do for hundreds of years – and all the while preserving what is most advantageous, to both sides, in our longstanding partnership with Europe."
In her letter triggering Article 50, May warned that in terms of security, no trade deal would mean that "cooperation in the fight against crime and terrorism would be weakened" – a remark that has drawn widespread criticism and even accusations of blackmail. Using security as a bargaining chip in negotiations is viewed as a controversial stance.
However, writing in the Telegraph, Johnson said: "It is our clear desire and intention that we should continue to play a role as one of the indispensable guarantors of peace and stability in our continent.
"We want to continue to work with our counterparts on defence cooperation, intelligence sharing, counter-terrorism, foreign policy coordination – and much else besides – on an intergovernmental level," he added.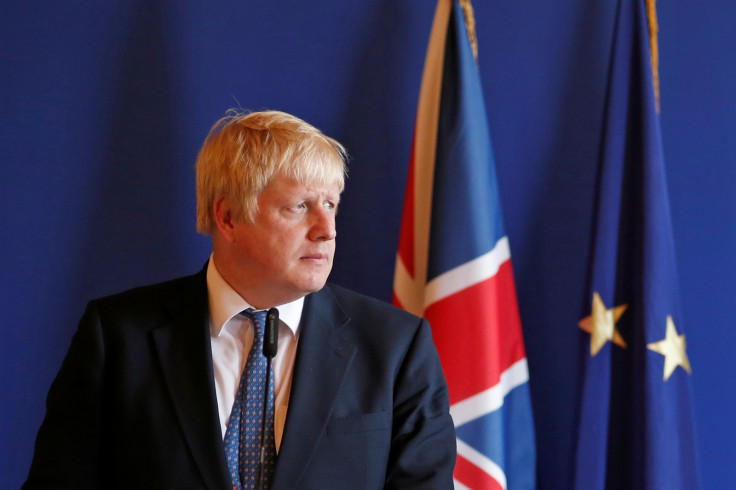 A trade deal is May's top priority, but her request to negotiate an agreement in tandem with withdrawal talks was dealt a blow by German Chancellor Angela Merkel, who identified the first task as finding a way to "disentangle our interlinked relationship".
While the prime minister has previously said she is prepared to walk away with no deal rather than a bad one, and trade under World Trade Organisation (WTO) terms, Johnson remains confident that an agreement can be reached as it is in the interests of both parties.
"Since the UK accounts for 16% of EU GDP, 20% of EU defence spending and 25% of the EU's aid budget, it is clearly important – for both sides – that the EU and the UK should have the closest possible alliance and understanding," he said.
"We are massive net consumers of EU goods. 
It is manifestly in the interests of everyone in both the EU and the UK that we do a deal, just as it is in our mutual interests to look after both the EU nationals in the UK and the UK nationals in the rest of the EU," Johnson added.