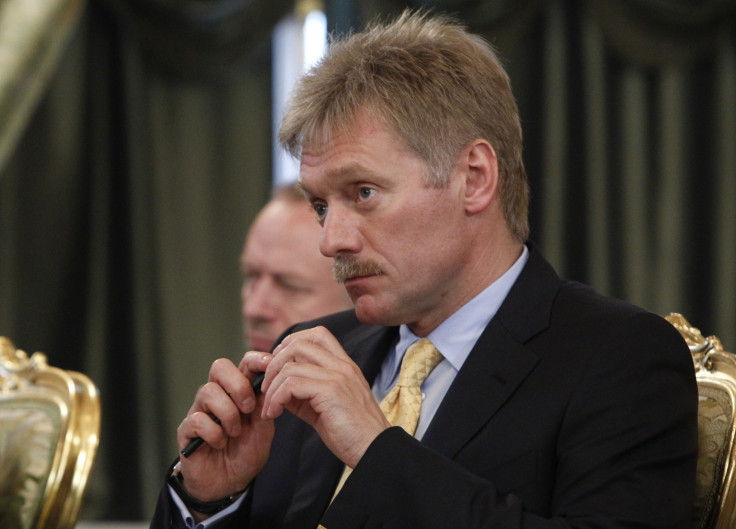 A photograph showing Russian President Vladimir Putin's spokesman Dmitry Peskov wearing a £397,000 ($620,000) watch at his wedding to an Olympic champion figure skater has caused uproar in Russia.
At the ceremony in Sochi at the luxurious Rodina Hotel, where rooms can cost up to $3,250 a night, Peskov is photographed kissing his bride Tatyana Navka wearing a Richard Mille RM 52-01 watch worth at least £397,000.
In a blog post opposition activist Alexander Navalny pointed out that the watch was worth almost four times Peskov's £89,000 salary.
Peskov responded that he did not purchase the watch, which has an 18 carat gold skull in the face, but it was bought for him as a wedding present by his bride, who became a popular television host after retiring from sport. However, opposition bloggers pointed out that Peskov had been pictured wearing the same watch in his daughter's Instagram feed months ago.
According to Peskov's income and property declarations he did not receive the watch as a gift.
Peskov's boss Putin also has a taste for luxury timepieces, with Russian opposition group Solidarity in 2012 calculating the value of watches Putin has been seen wearing in public at £500,000, almost six times his annual salary of £72,000. He has also been known to give away luxury watches, presenting a £6736 Blancpain to a Siberian boy in 2009, and another to a factory worker the same year.
In 2012 the Russian Orthodox Church was forced to apologise after attempting to Photoshop a £19,000 Breguet watch from a photograph of church leader Patriach Kirill.
It is not known if Putin was among the guests at the wedding on Saturday 1 August.
Russia is currently ranked at 127th in Transparency International's Corruption Perceptions Index, alongside Nigeria and Iran. In April, Peskov said that the Russian government was determined to continue its battle against corruption.