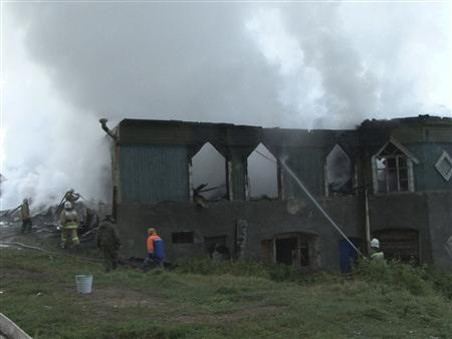 A fire at a psychiatric hospital in Luka village in the Novgorod Region of Russia has killed 37 people after a patient set his bed ablaze while smoking in bed.
According to Russia Today, six bodies have been found so far by emergency services, with all too severely burnt to be identified. One of the deceased is believed to be a nurse who had been trying to rescue the patients.
Emergency services had hoped to find the missing patients alive, and had were searching the nearby area for them.
Oleg Voronov, head of Russia's Emergencies Ministry, told RIA Novosti: "According to refined data, there were about 60 people inside. More than 20 were evacuated by the facility's administration. The fate of 37 remains unknown. But that does not mean that they are dead."
However, authorities have now said all 37 were killed in the fire. A local police source said : "Everything has collapsed inside as a result of the fire. The people believed to be inside are now most likely dead."
Hospital staff reportedly struggled to evacuate the patients as most were incapacitated and suffering from serious conditions.
The fire, which broke out around 3am local time, spread to over 670sqm of the hospital, with the men's ward completely destroyed. It took firefighters over an hour-and-a-half to extinguish the blaze.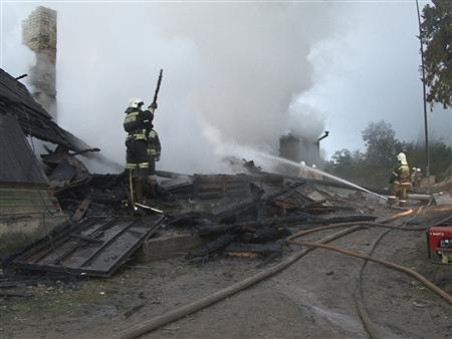 Sergey Mitin, governor of Novgorod, where the hospital is located, said he believes the fire was started by one of the patients.
He told the Interfax news agency: "Doctors saw one of the patients of ward number two on fire. He could have possibly caused the fire. He could have been smoking in bed, and thus could have set the quilting cotton of his mattress ablaze."
However, Gusein Magomedov, chief of the hospital, said he thinks one of the patients may have started the fire intentionally.
The Russian Emergency Ministry and the Prosecutor's office said the hospital had been asked to stop using the 19th century building that was destroyed by the fire because it was made of wood and there were concerns over its safety.
"The building that burned was unfit for use," an official told Itar-Tass.
A court ruling said the hospital had to vacate the building by August next year. A criminal case has now been opened and hospital officials may face manslaughter and negligence charges.