Russia will drop its sanctions against Turkey and restore charter flights between the countries after their leaders Vladimir Putin and Raccip Tayyip Erdogan thawed a relationship that had been on ice for several months.
In a highly anticipated meeting in St Petersburg, Putin said that sanctions, imposed after Ankara downed a Russian Su-24 jet at its border with Syria in November 2015, would be eased.
Following the plane's downing, Russia initiated economic sanctions, deported Turks, ended flights to Turkey and waged an information war via state-run media against Ankara.
But on Tuesday *(9 August), Putin said: "We have looked at the possibilities of restoring chartered flights as soon as possible," adding that further talks were needed with major companies in Turkey and Russia.
"We will gradually drop the special economic measures and restrictions directed at Turkish companies that were introduced earlier", adding that Russia and Turkey had "every opportunity to resume normal, fully fledged relationships", RIA Novosti reported.
Putin said restoring the visa-free regime for Turkish passport holders would be discussed at a later date while Erdogan stated that the Turkish Stream gas pipeline project would go ahead.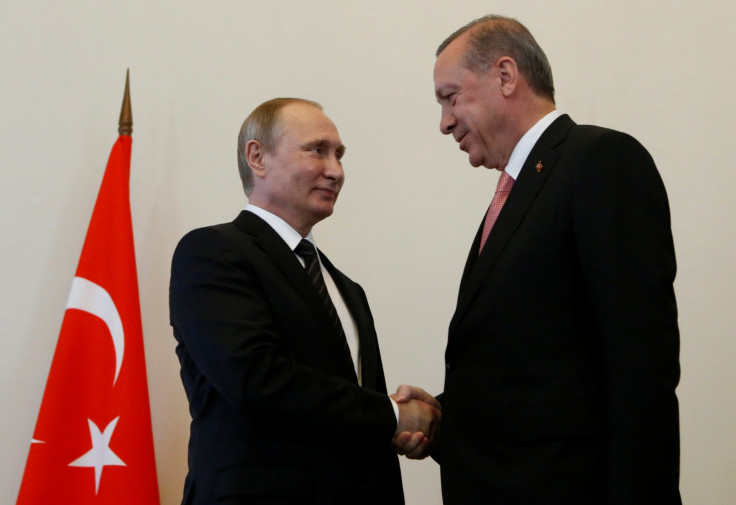 The meeting was Erdogan's first visit abroad since the failed coup attempt in July, and he thanked Putin for his support. Putin said he opposed any "anti-constitutional activity" and that "justice and legality will prevail".
Erdogan and Putin are both seen internationally as strong but autocratic leaders, and there may be some common ground in the way that the Turkish president has restricted his country's media environment, an accusation often levelled at Putin's Russia.
The meeting between the pair comes amid concerns in European capitals at the widespread arrests in Turkey of judiciary and journalists in the wake of failed coup.
Exiled journalist Mahir Zeynalov told IBTimes UK that Erdogan was using the coup attempt to build a compliant media and that dozens of arrested journalists had no connection with the self-exiled cleric Fethullah Gulen, whom Erdogan accused of being behind the failed putsch.