A journalist who was expelled from Turkey two years ago has told the IBTimes UK that Raccip Tayyip Erdogan is using the failed military coup to build a government-friendly media which the Turkish president is trying to "cow" into submission.
Mahir Zeynalov has been documenting on social media – to date – the jailing of 77 journalists, including 42 who face charges relating to the failed coup on 15 July and has been posting images of the journalists on Twitter.
Zeynalov, who is from Azerbaijan but lived and worked in Turkey for many years and has a Turkish wife, was expelled in 2014 for posting tweets against state officials. He has tweeted images of those who have been victims of a clampdown which has seen the closure of 131 media outlets. He used to write for the mass circulation daily Zaman.
He told IBTimes UK via email that the developments over the last three weeks were ironic given that it was the media which helped Erdogan thwart the coup.
"We journalists supported the civilian government that night when the coup was unfolding. But the next day he started to shut down our newspapers and TV channels and arrested our colleagues.
"Erdogan is not only cracking down on the critical media, but he is also building a loyalist one. He does not "hate" the media, he understands its power.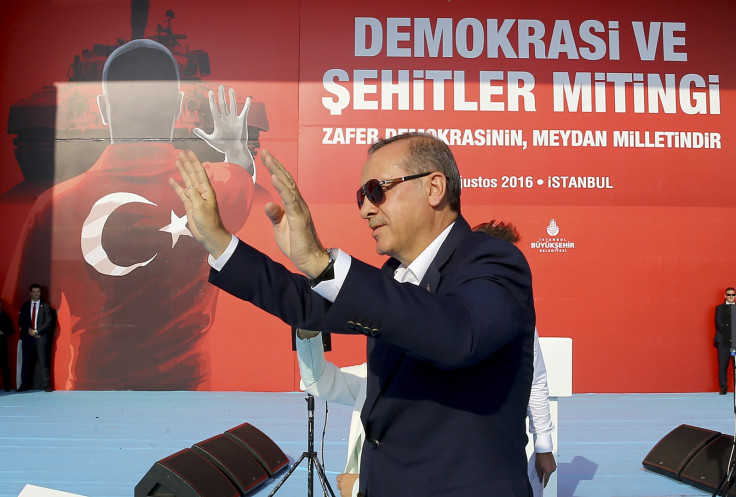 "He is skilfully transforming the media climate in his favour. He is nearing the end to completely cow the media into submission."
Zeynalov believes it almost impossible for anyone in Turkey to write anything critical about the government, saying: "Even those journalists who don't believe we are moving toward a better democratic governance pretend to be a pro-government to avoid arrest," he said.
Call to reinstate the death penalty
On Sunday 7 August, Erdogan told a vast rally of more than one million people in Istanbul that the republic would be cleansed of all supporters of the US-based cleric Fethullah Gulen, who is blamed for the failed uprising. The exiled cleric, based in Pennsylvania, denies any involvement. On Monday 8 August, Turkish authorities arrested 10 foreign nationals suspected of ties to Gulen.
Erdogan went on to say that if he got the backing of the parliament and the public, he would approve the return of the death penalty in comments which have unsettled many in European capitals.
To reinstate the death penalty, which was abolished in 2004 – although no prisoner has been executed in Turkey since 1984 – would require a referendum by a super-majority of Turkish parliament members, which the ruling AKP currently does not have in the 330-seat house.
But a bigger barrier could be its relationship with Europe, given that Ankara has ratified Protocol 6 of the European Convention on Human Rights (ECHR).
Kristin Hausler, from the British Institute of International and Comparative Law (BIICL) told IBTimes UK: "Turkey would then have to amend its Constitution and denounce Protocol 6 of the ECHR, in order to reinstate the death penalty, which would be seen by the international community as a step backwards."
On Monday 8 August, Austria's foreign minister Sebastian Kurz threatened that Vienna would veto further talks on Turkish membership of the European Union, endangering the EU's controversial migrant deal with Turkey.