The European Commission will offer financial support worth €125m (£100m, $170m) to farmers affected by the Russian import ban on fresh food from the EU.
The commission has triggered an emergency measure included in the Common Agricultural Policy (CAP) which allows it to purchase stock from farmers in cases of extreme market volatility.
Given that Russia, under the terms of sanctions announced earlier in August, will not be purchasing European fresh produce for at least 12 months, the EU has chosen to act swiftly.
The fund will cover products in full season, and which have no storage options or immediate alternative markets to export to. The measures will be in place until November.
The products covered are: tomatoes, carrots, white cabbage, peppers, cauliflowers, cucumbers, gherkins, mushrooms, apples, pear, red fruits, table grapes and kiwi fruit.
Massive food waste
In the two weeks since the Russian embargo came into effect, there have been frequent reports of European food stocks going to waste. Campaigns had been launched across Europe for the European Commission to take up the lag.
In Poland, farmers had already received a €4m grant from the commission to promote Polish apples in India and China, as it sought to diversity its trade routes. Poland is the largest exporter of apples in the world, having recently wrested the number one spot from China. A significant portion of these go to Russia, but the overall impact could be less than 1% of Polish GDP.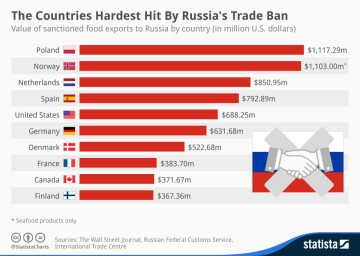 Meanwhile, in the run up to and in the wake of the ban, Polish people took to social media using the hashtag #EatApples to attempt to drive domestic consumption of the fruit.
"By far and away the most vulnerable to the Russian sanctions is Lithuania, where exports of the banned products to Russia are equivalent to 2.5% of GDP," said William Jackson of Capital Economics in a note.
In the UK, the main victim is likely to be Scottish mackerel industry, which is set to lose up to £16m in Russian export business. Overall, the food ban could impact just 0.2% of the UK's total food exports.
A spokesperson for the Seafish Directory, a quango that represents the British fishing industry, told IBTimes UK that there are no fishing businesses in England which stand to lose out, as most of the stock is used on the domestic market. The commission has yet to confirm whether there will be any support available for the fishing industry.
Speaking after the emergency fund was announced, the EU Agriculture and Rural Development Commissioner Dacian Cioloș said: "All farmers of the concerned products – whether in producer organisations or not – will be eligible to take up these market support measures where they see fit. Acting early will provide an efficient support to the price paid to producers on the internal market, help the market adjust and be cost effective."