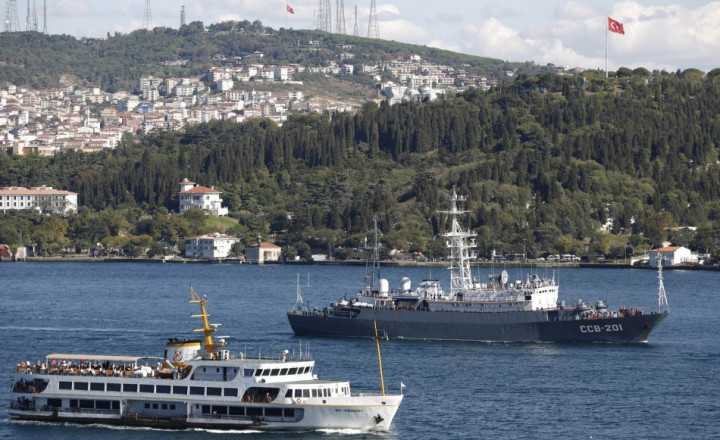 Russian landing ship Nikolai Filchenkov is reportedly heading to the Syrian coast as tension in the region continues to escalate.
The deployment of another vessel by Moscow, a key ally of Damascus, comes as the US considers unleashing a military strike against president Bashar al-Assad's regime.
"The vessel will dock in Novorossiysk where it will take special cargo on board and head to the designated area of military service in the eastern Mediterranean," an unnamed naval source told Russia's Interfax news agency.
The nature of the cargo is still unclear. The vessel has capacity for 3,300 troops and 1,700 tonnes of cargo, including 20 tanks.
It is protected by three guns and three missile launchers.
Ahead of the movement of the large vessel, two Russian ships passed the Bosporus Strait in Istanbul en route to the eastern stretch of the Mediterranean.
Russia had earlier sent new warships to the region shortly after America announced it would intervene militarily in Syria as retaliation for Assad's Ghouta chemical attack.
Moscow has been strengthening its Mediterranean naval fleet over recent months, although the country insists these are regular manoeuvres.
Russia also has a naval maintenance facility in the Syrian port of Tartous.
READ:
Iran's Ayatollah Khamenei Warns US against Syria Attack
Tony Blair: Iraq Made UK 'Hesitant' Over Syria
G20: Cameron on the Sidelines as Obama and Hollande Talk Syria [VIDEO]
Pope to Putin: Military Action in Syria 'A Futile Pursuit'
US Strikes on Syria Risk Dangerous Oil Price Hike, Warns China [VIDEO]