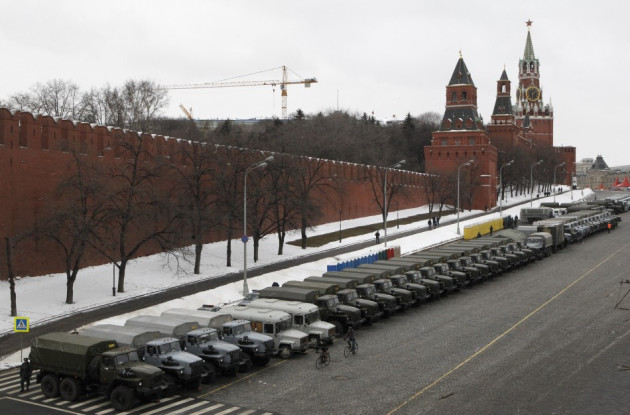 A married couple accused of spying for the Kremlin for more than 20 years while they lived in Germany destroyed numerous incriminating documents as part of preparations to flee back to Russia before being arrested, a Stuttgart court has heard.
Andreas and Heidrun Anschlag - the names on the fake Austrian passports they allegedly used to enter Germany - were arrested at their home in the western town of Marburg in October 2011.
German prosecutors believe that under the cover of a normal life, the pair secretly fed information to Russia's foreign intelligence service (SVR) over two decades.
"This is a case of treason that has been going on for more than 20 years, involving the entire range of intelligence activity, from trying to recruit new sources to instructing others, all the way to writing their own reports on political and military areas, based on events they attended to inform their headquarters about the mood within the various institutions here," federal prosecutor Rolf Hannich said.
Investigators claim that Andreas, 51, was the first to arrive in Germany as the Soviet Union was on the verge of collapse in 1988. He was joined by his wife Heidrun, 45, two years later. As part of his cover, he worked for some of the time in Germany for a car manufacturer.
Both claimed to be Austrian nationals of South American background, prosecutors said.
Intelligence-gathering operations
"With this backstory, underpinned by false Austrian passports, they built a normal existence within society to disguise their intelligence-gathering operations," prosecutors said.
Andreas studied engineering and plastics technology in Aachen, Der Spiegel reported, and after graduating in 1998 worked for several companies.
The couple had a daughter and apparently conducted a normal life until the morning a squad of German special forces broke into their house and arrested them.
Andreas was receiving the last encoded messages of his spy career from a wireless transmitter in his study when police took him away, Der Spiegel reported.
"[They spied on] documents and evaluations on Nato's policies which are of course of high interest to the other side because they can then adapt their own behaviour," Hannich said at the opening of the trial.
According to the prosecutor in the last three years of their spying activity the couple co-operated with a Netherlands-based agent, who provided them with documents about EU and Nato operations.
An unnamed Dutch foreign ministry employee was arrested in March 2012 in relation to the case.
"During the duration of their intelligence activities the accused were in regular contact with their handlers," prosecutors said. "Their instructions were received mainly through a special agents' radio. Their reports were transmitted to the intelligence via satellite. They also used an internet video portal for hidden messages."
Their activities prior to 2008 are uncertain because they destroyed many documents.
Prior to the arrest, Andreas had resigned from his last job and sold his car. Prosecutors claimed they got €100,000 (£83,000) a year for their espionage.
"Our difficulty is that the two accused were already preparing their return to Russia and a lot of documents had been destroyed," said Hannich.
The pair denied the charges. If convicted they face up to 10 years in prison but they could be used for a spy swap.
"The accused would be released after their conviction and would be able to go wherever they want to, maybe. Maybe part of the deal would require them to live in a certain location. That's still unclear," defence lawyer Horst-Dieter Poetschke told reporters.