After the fall of the Soviet Union, the West and Russia never managed to re-establish trust and continue to misunderstand each other, the Russian president Vladimir Putin has said in a newspaper interview.
He blamed NATO's eastern expansion and criticised sanctions against Russia following its annexation of Crimea.
"Twenty-five years ago, the Berlin Wall fell, but invisible walls were moved to eastern Europe. This has led to mutual misunderstandings and assignments of guilt. They are the cause of all crises ever since," he told the German newspaper Bild.
"We've done everything wrong," he added.
He said sanctions were harming Russia's "possibilities on the financial markets," but pointed toward the plunge in oil prices as the main reason for Russia's economic hardships.
"NATO and the U.S. wanted a complete victory over the Soviet Union. They wanted to sit on the throne in Europe alone," he said.
Putin described the sanctions, which were extended by six months by the European Union in December, as "foolish" and "a theatre of the absurd." The economy is suffering in Russia with the ruble falling on Monday January 11 to its lowest level against the dollar and the euro since December 2014, the Moscow Times reported.
The drop comes amid the continuing decline in the global prices for oil, Russia's major export.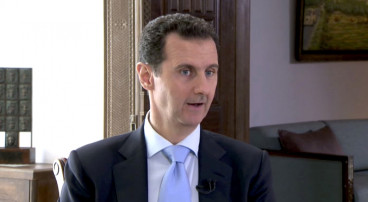 Putin also told the newspaper that Bashar al-Assad would "be easier" to shelter than Edward Snowden, who has been living in Moscow for nearly two years. Russia offered asylum to Snowden, the whistleblowing contractor for the National Security Agency, after American officials wanted him for treason.
However Putin dismissed any notion that the Syrian leader was about to leave the country as "premature."
He said if presidential elections in Syria are held democratically under a United Nations-sponsored peace plan, "then Assad will probably not need to leave the country at all."
Putin said he's focused on supporting the nation's "legitimate" government, and defended Assad's use of force in the Syrian civil war. But he also acknowledged that Assad has made "many mistakes."