Russian Chimp Goes to Rehab For Cigarette and Alcohol Addiction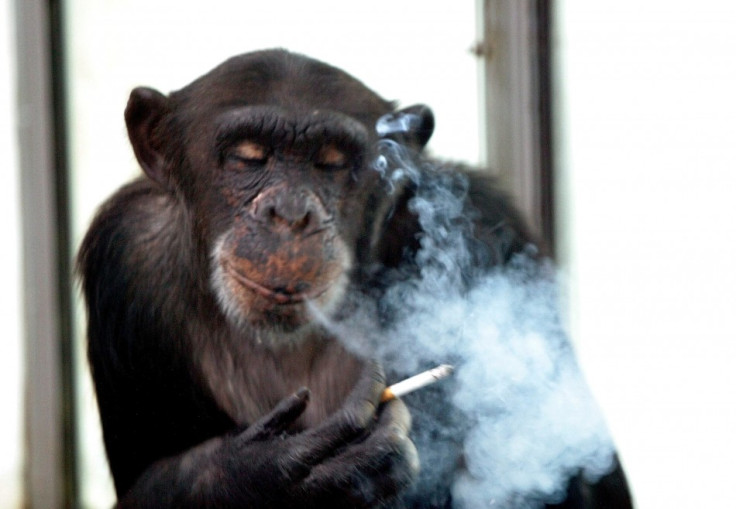 A chimpanzee in Russia has been treated in rehab after developing an addiction to alcohol and cigarettes in one of the country's biggest casinos.
John the chimp spent years working as the mascot for the Casino Kosmos in Moscow, where he would drink and smoke the night away with gamblers and guests.
Russian media shows a picture of John lighting a cigarette from Soviet actor Leonid Bronevo, while another appears to show the chimp downing tequila slammers.
However, the country outlawed the practice of employing chimps in this way and John was left unemployed.
He was taken to his new home at the Gekendzhik Safari Park, in south west Russia, where workers found he had developed an addiction to his unhealthy party lifestyle.
Visitors to the zoo made it all the more difficult for him to kick his bad habit, with people throwing cigarettes into his enclosure. John also took to stealing pints of beer from the crowd.
Peter Skorsky, deputy director at the safari park, told the Daily Mail: "We saw this and tried to prevent possible gifts but he still managed to drink and smoke."
Full of energy
As a result, John was sent to rehab where he has since managed to get clean and has since been living a much healthier lifestyle.
"We have developed for him a special diet of fresh fruit and established sports equipment in his enclosure. Now he is cheerful and full of energy and I think he was completely rehabbed, getting rid of bad habits," Skorsky said.
There have been a number of reported cases of smoking chimps. In the Tianshan wild animal Zoo in Xinjiang, China, an ape regularly puffs on fags and is able to light one cigarette from the embers of another. He can also be seen guzzling beer with his other hand.
Charlie, a chimp in a South African zoo also developed a cigarette addiction after picking up butts discarded by visitors. After he started smoking, more visitors threw him cigarettes, fueling his addiction.
Charlie died at the zoo in 2010 from old age, at 52 - over 10 years longer than the lifespan of an average captive chimpanzee.
© Copyright IBTimes 2023. All rights reserved.