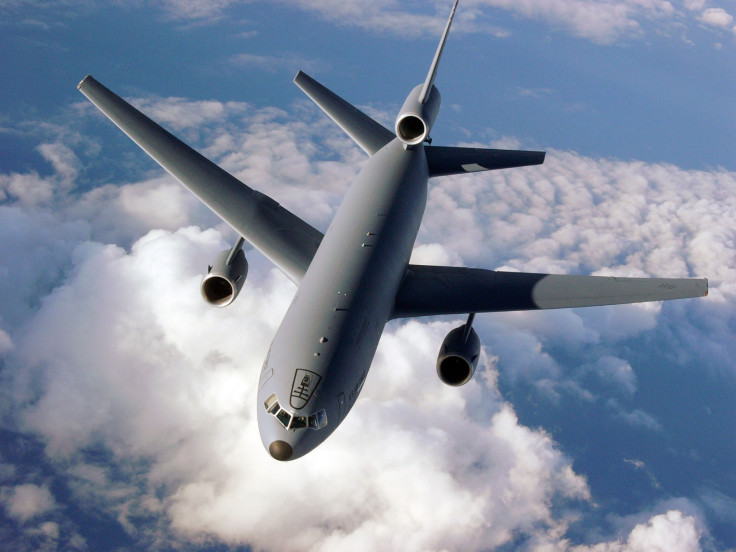 Russian military officials apologised after one of their fighter jets performed a "barrel roll" over a US plane over Syria, a US military official said.
The incident took place about two weeks ago when the fighter jet conducted an "unprofessional" intercept of a US KC-10 tanker aircraft in Syrian airspace, Lt. Gen. Jeffrey Harrigian told reporters at the Pentagon on Wednesday (24 May).
A US military official later told CNN the incident was a "barrel roll" and that the Russian pilot responsible was likely acting on his own initiative.
Lt. Gen. Harrigian, who oversees US air forces in the region, said Russian counterparts had apologised for the incident.
He said: "We had one incident where there was an intercept they ran that I would categorise as unprofessional, and we called them on it and expressed our concern ... they came back, quite frankly, and apologised for that particular intercept."
Lt. Gen. Harrigian said despite the incident the US-led coalition had successfully reduced the number of incidents involving Russian aircraft in recent months.
Airspace is tight in Syria's skies as Russian and US coalition forces target different militant groups on the ground in the war-torn country.
Legally the Pentagon is prohibited from any military cooperation with Russia.
But US and Russian forces have increased the use of the deconfliction hotline – a line of communication opened to avoid midair collisions and reduce on-the-ground mistakes.
"We have found ways to appropriately de-conflict to allow us to continue our mission," Harrigian said.
"The Russians, while we don't give them the specifics, we note where we are going to operate so that we can portray that to them in a manner that allows us to continue our attack on the enemy and gives us the freedom of movement we need."
The three-star general, who was speaking from his headquarters in Qatar, added: "I think that it's important to highlight that the Russians are understanding of what we're trying to do ... I'm ever-cognisant of the need to avoid an action that could result in a strategic miscalculation."