Dozens of Russian Orthodox Christians have plunged under the ice in Siberia to mark the Epiphany. Believers submerged themselves at -21C (-6F) conditions on Tuesday 19 January in Irkutsk to mark the baptism of Jesus Christ in the Jordan river.
Worshippers across the country have been taking part in the ritual, with thousands turning out in major cities such as Moscow and Sochi.
Orthodox Christian Sergei Onishyuk, who submerged himself in the freezing water, said, "There is this lightness, I feel light as if I'm about to fly. And it is not even cold to be honest. It looks cold but in fact I am standing here now and I feel amazing."
Participants dunk themselves under the water a number of times, while crossing each time they come back up for breath. Hundreds watched the ritual in Siberia, with some in the crowds taking home the icy water in containers as well.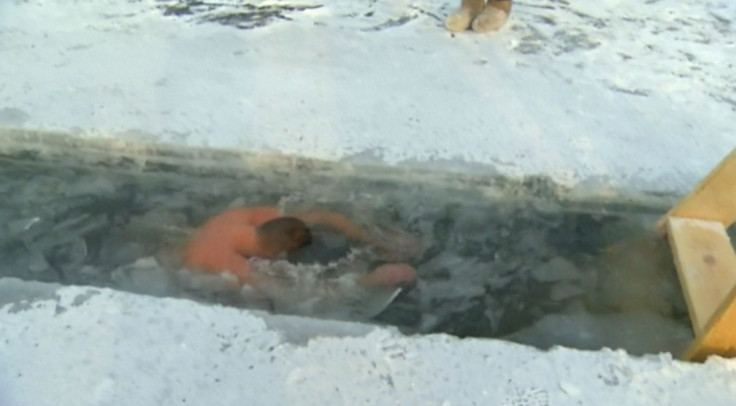 "There is faith, you know. And we have also started to believe that with this (holy) water it would be easier for us to live through the next year," said Irkutsk resident Alexi Ivanov
Another local resident, Vera Usik, said, "Happiness, health and wellbeing! And the most important is health and the grace of God. And it is not without a reason that there is a rainbow today. It is in honour of the great holiday by the grace of God."
By bathing in the freezing waters, many believers say they symbolically wash away their sins. Some also believe a dip in the icy conditions is good for their health.