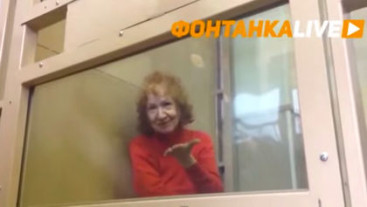 A Russian pensioner being investigated for the murder of 13 people may have cannibalised her victims, police said.
Tamara Samsonova, 68, described beheading and dismembering her victims inside gruesome diaries she kept in Russian, French and English, alongside mundane references to everyday events.
She was arrested last week (28 July) after being caught on CCTV carrying the remains of a 79-year-old woman for disposal in a bin liner. The victim's torso and legs were found in a nearby pond.
Detectives from Russia's Investigative Committee believe that the former hotel worker may have eaten some of the body parts of her victims after cutting them to pieces, local media reported.
Among those she is suspected of killing are her husband, who was reported missing in 2005, and a lodger. "I killed my tenant Volodya, cut him to pieces in the bathroom with a knife, put the pieces of his body in plastic bags and threw them away in the different parts of Frunzensky district," she wrote.
Her latest victim lived with her, and Samsonova killed her after they argued over dirty tea cups. Police sources said Samsonova drugged the woman, the cut her up with a hacksaw while she was still alive.
When she appeared in court last week, Samsonova told a judge "I am guilty and deserve a punishment."