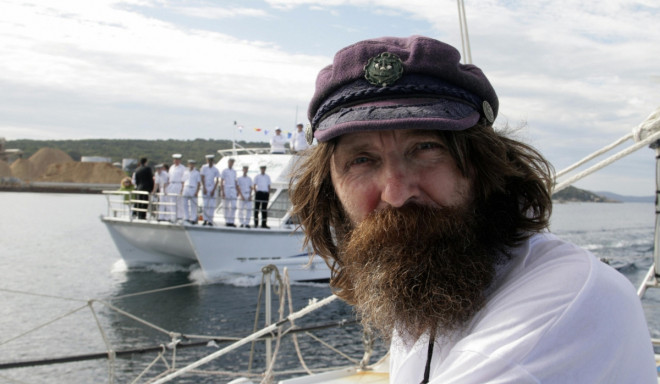 A Russian priest has single-handedly rowed across the Pacific Ocean to Australia, defying sharks and giant waves on his epic voyage.
Fedor Konyukhov, 63, hit land in the Sunshine Coast after rowing the 16,800km (10,400 miles, 9,000 nautical miles) from Chile in 163 days.
The Orthodox priest spent the whole five months in his carbon-fibre rowing boat equipped with solar panels and a collection of crucifixes for spiritual solace. Food consisted of freeze-dried fare, while sleep was snatched in his tiny cabin.
When Konyukhov made it to land the first thing he said he wanted to do was go to a church. Speaking to the Sunshine Coast Daily, the bearded priest said: "I did this crossing only with the help of God."
But corporate sponsors also played a part in the record-setting voyage, judging by the plethora of stickers on his boat.
Indeed, in his homeland, Konyukhov is as well-known as many of these corporate giants thanks to numerous feats, including treks to both poles, climbing Mount Everest, and all 14 peaks of the Himalayas.
Russian journalist Anton Volskiy said: "This is a very big story in Russia. His name is a brand.''
Konyukhov's latest triumph came at the second attempt, after a faulty piece of equipment forced him to abandon his first attempt, last December.
Completing the voyage has been gruelling, said his son and manager, Oscar. As well as natural dangers such as killer fish, Konyukhov also had to contend with a goodwill phone call from Russian president Vladimir Putin.
"He has told me he is having to force himself to row every day," Putin said of the Russian national hero. "He's losing energy because he's moving all the time and losing calories.
"He is getting very little sleep. The wind, the waves and the current are starting to work against him."
But Konyukhov is far from the typical adventurer. Volskiy said: ""To see him you couldn't imagine he was a man of strength. He's a skinny old man, but he's a priest. You would not think he was a rower. The most important thing is that he is spiritually strong.
"I think the secret is that he has physical strength from travelling all the time. He is climbing, skiing, in dog races. He is trained by adventure.''
Watch Russia's hero priest in action on his YouTube channel, below: